Old images
Architecture
Architecture images I created while training or while working at Imagence and Idées Claires.
Space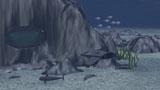 Of course when you start creating 3D images you tend to go towards science-fiction. Or Don't you?
These were useful as a first portfolio.
Versailles
An imposed theme for a job interview…
Tubular
A grid of colour-shifting tubes.
The personal work presented in these "Images" pages is licensed under aBy - Nc - Sa Creative Commons License (There are details about this licence in the About page).
The work produced for various companies is not released under this license and is not to be used either for noncommercial or commercial purposes.