Virga under a cloud
Virga sous un nuage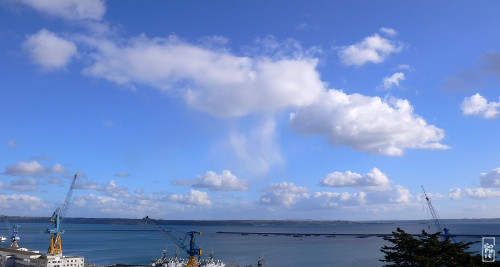 Small white cumulus clouds go over Brest harbour, under one of them is a virga, a veil of precipitation that doesn't reach the ground.
Des petits nuages (cumulus) blancs défilent au-dessus de la rade de Brest, sous l'un d'entre eux on voit une virga, un voile de précipitations qui n'atteint pas le sol.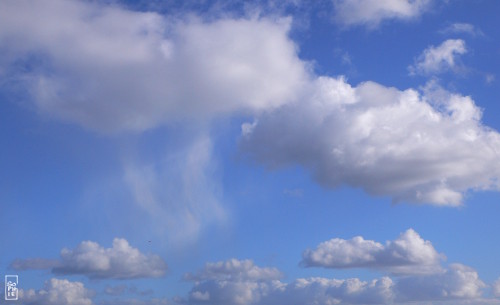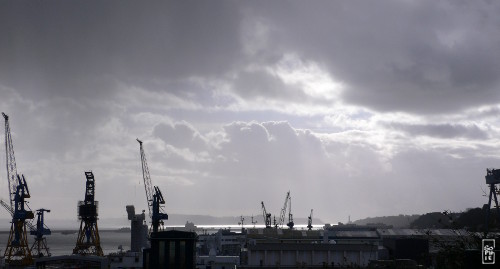 Turning towards the Goulet, bigger clouds arrive and let sunlight through. This time the rain reaches the ground and the weather turns grey. The Jardin des explorateurs (garden of explorers) is a great place to view the harbour.
En se tournant vers le Goulet, de plus gros nuages arrivent et laissent passer la lumière du soleil. Cette fois-ci la pluie arrive au sol et le temps devient gris. Le jardin des explorateurs est un très bon endroit où observer la rade de Brest.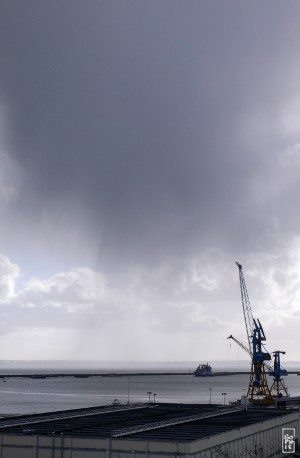 Brest, Finistère, France—02/2012