Tate Modern & City Hall
Tate Modern

& Hôtel de ville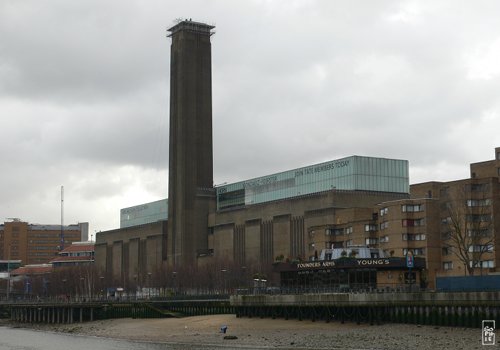 The Tate Modern museum building is the former Bankside power station, which used to generate electricity from oil. It was saved from demolition and converted into a contemporary art museum.
Le bâtiment du musée Tate Modern est l'ancienne usine électrique de Bankside, qui produisait de l'électricité à partir de fuel. Elle a été sauvée de la démolition et transformée en musée d'art contemporain.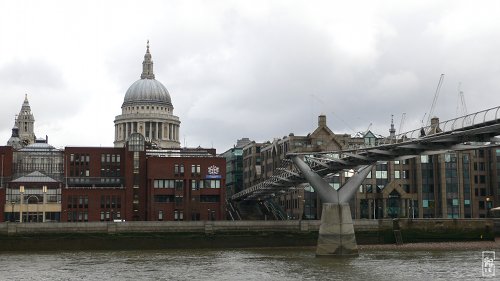 Next to the Tate Modern, the Millenium (a.k.a. Wobbly) Bridge crosses towards St Paul's cathedral. Its nickname comes from a design flaw that made it wobble madly when people walked on it. The flaw is now corrected.
Près de la Tate Modern, le pont du Millenium (alias le pont chancelant) traverse vers la cathédrale St Paul. Son surnom vient d'une erreur de conception qui le faisait résonner quand les piétons marchaient dessus. L'erreur a été corrigée.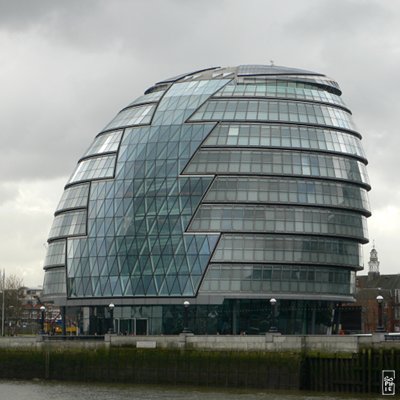 The City Hall building, designed by Norman Foster, is on the south bank of the Thames, close to Tower Bridge. Its curved glass panels add blue-green to the colour of the grey sky.
L'hôtel de ville, conçu par Norman Foster, est un hôtel de région sur la rive sud de la Tamise, près de Tower Bridge. Ses panneaux de verre courbes ajoutent du bleu-vert à la couleur du ciel gris.
River Thames, London, United-Kingdom—03/2009