Docklands
Docklands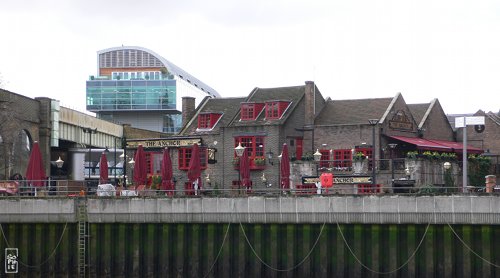 East of Tower Bridge, the docklands were London's harbour, with ships filling warehouses with imported goods from around the world—and pubs. The harbour was relocated in deep water to accomodate the container freighters in the 1950s, and the warehouses closed, leaving a big wasteland.
À l'est de Tower Bridge, les docklands étaient le port de Londres, avec des bateaux qui remplissaient des entrepôts de produits importés du monde entier—et des pubs. Le port a été délocalisé en eaux profondes pour accepter les cargos de conteneurs dans les années 50, et les entrepôts ont fermé, laissant une grande friche.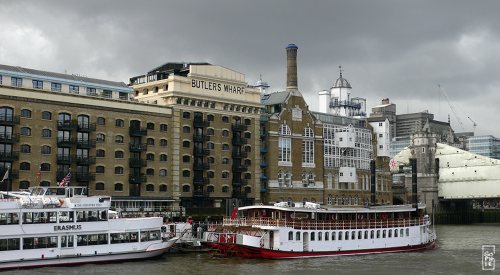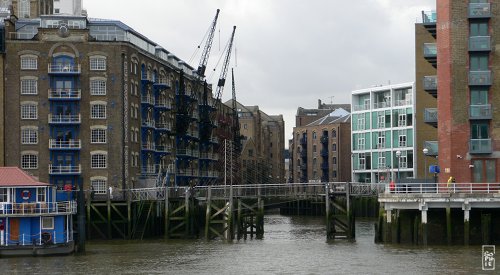 Starting in the 1980s, rather than demolishing everything, most warehouses were converted into flats and offices, some with the good taste of keeping the cranes that were attached on the facades to load and unload the ships.
À partir des années 80, plutôt que de tout démolir, la plupart des entrepôts furent transformés en appartements et bureaux, certains avec le bon goût de conserver les grues qui étaient fixées sur les façades pour charger et décharger les bateaux.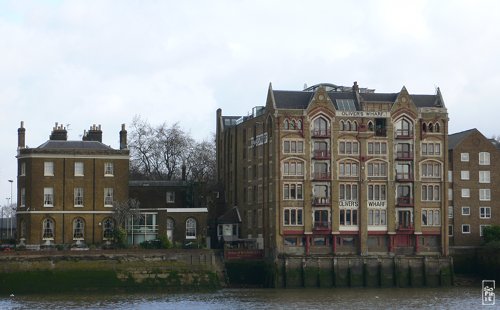 River Thames, London, United-Kingdom—03/2009