Old images
Architecture
Architecture images I created while training or while working at Imagence and Idées Claires.
Space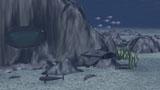 Of course when you start creating 3D images you tend to go towards science-fiction. Or Don't you?
These were useful as a first portfolio.
Versailles
An imposed theme for a job interview…
Tubular
A grid of colour-shifting tubes.
Personal work presented in these "Images" pages is licensed under a By - Nc - Sa Creative Commons License (see details about this licence in the About page).
Work produced for various companies is not released under this license and all rights are reserved.