Riouzig

island atlantic puffins
Macareux de l'île
Riouzig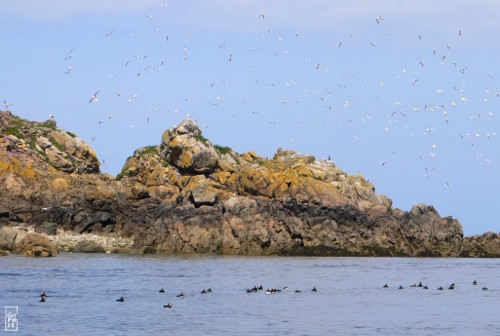 As we leave the gannet colony to see the other side of Riouzig island, we notice black dots on the water. These are atlantic puffin. On this lucky day (for us) ornithologists were counting them, checking each of their burrows, so they were all on the water.
Alors que nous quittons la colonie de fous de Bassan pour voir l'autre côté de l'île Riouzig, nous remarquons des points noirs sur l'eau. Ce sont les macareux moines. En ce jour de chance (pour nous), les ornithologues étaient en train de les compter, en visitant tous leurs terriers, donc ils étaient tous sur l'eau.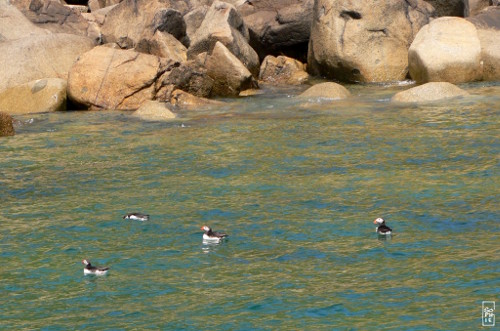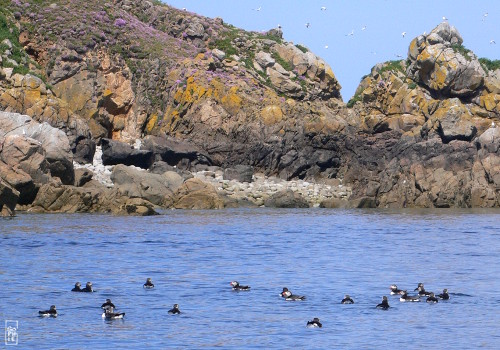 This is the only big colony in France, with about 175 individuals. At the beginning of the 20th century, there were more than 10.000 birds, but hunts were o and the colony was almost wiped out.
C'est la seule grande colonie en France, avec à peu près 175 individus. Au début du XXe siècle, il y avait plus de 10 000 oiseaux, mais des chasses étaient organisées et la colonie a presque été détruite.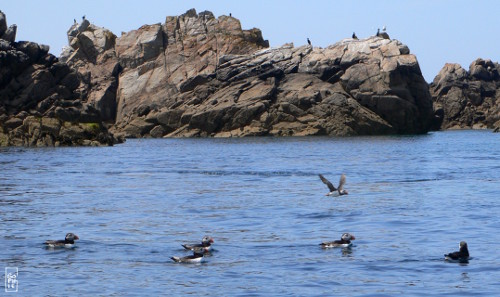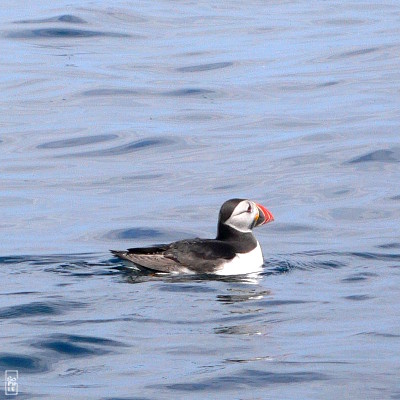 These are very beautiful birds, they look a little bit clown-like with their round red beak. They do not seem very at ease when flying, but they are perfectly fine on and in water.
Ce sont de très beaux oiseaux, qui sont un peu clownesques avec leur bec rouge et rond. Ils ne semblent pas très à l'aise en vol, mais sont parfaits sur et sous l'eau.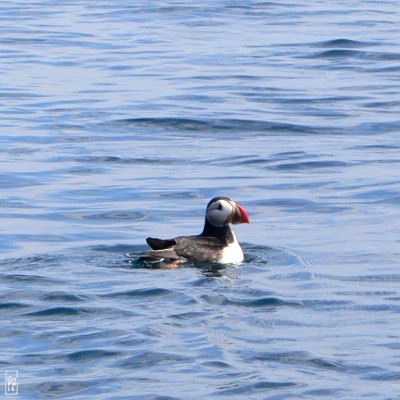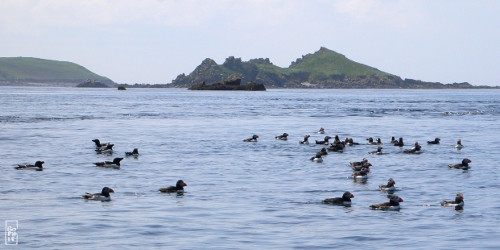 Among the atlantic puffins, there were also razorbills, another auk, with a powerful black beak, that you often see in Brest harbour in winter.
Parmi les macareux moines, il y avait aussi des pingouins torda, un autre alcidé, avec un gros bec noir, qu'on peut souvent voir en rade de Brest en hiver.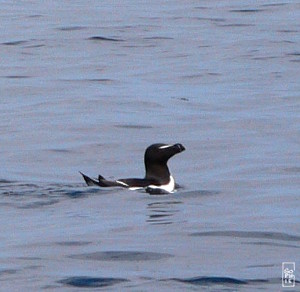 Sant C'hireg website.
Site de Sant C'hireg.
Ploumanac'h, Côtes-d'Armor, France—05/2012