Casa Batlló

entrance
Entrée de la
Casa Batlló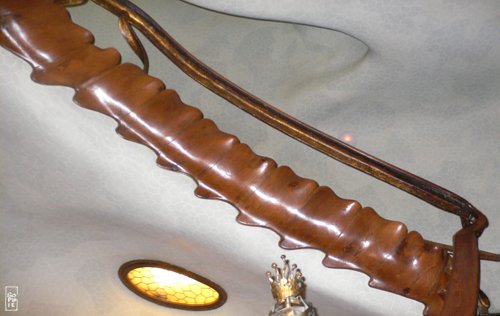 On the ground floor, a grand staircase leads to the entrance of the Batlló family's flat. It features a wavy sculpted wooden edge panel and goes through an organic-looking curved roof. The staircase lands in a well-lit room although it is in the middle of the block, thanks to light wells reaching the top of the building.
Au rez-de-chaussée, un grand escalier mène à l'entrée de l'appartement de la famille Batlló. Il comprend un panneau de côté ondulant en bois sculpté, et traverse le plafond courbe d'apparence organique. L'escalier arrive dans une pièce bien éclairée bien qu'elle se trouve au milieu du bloc, grâce à des puits de lumière montant jusqu'en haut du bâtiment.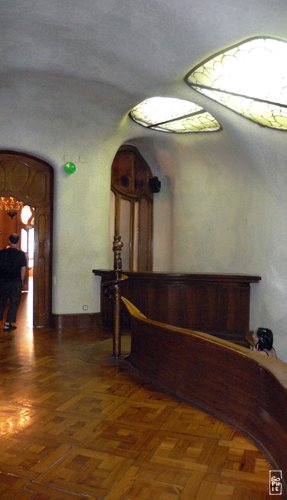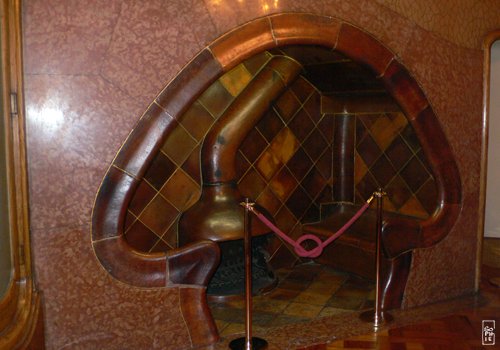 Between the landing and the main room, a small lobby includes a peculiar fireplace, with a chimney set in an alcove with two seats on its sides, a big one for a couple, and a small one for a chaperone. The whole alcove is tiled in flambé brown ceramics.
Entre le palier et la pièce principale, une petite antichambre comprend un espace bizarre, une petite cheminée située dans une alcôve avec deux sièges de part et d'autre, l'un grand pour un couple, l'autre petit pour le chaperon. Toute l'alcôve est carrelée en céramique marron flammée.
Barcelona, Catalonia, Spain 06/2007