L'Eixample

area
Quartier de
L'Eixample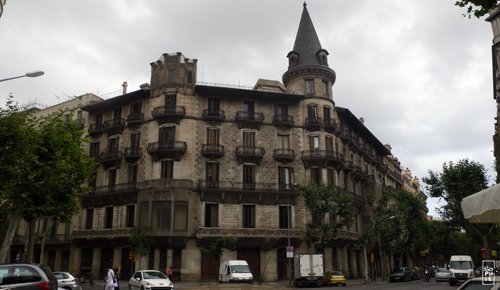 Several areas from the north to the east of the old downtown areas were urbanized after 1850, when the fortifications were demolished. They are laid on a roughly north-south orthogonal grid with about 100 m long blocks. The corners of the blocks are cut so that crossings have an orthogonal shape. Most of the buildings have got facades 4 to 6 storeys high, following the edges of the blocks. A few buildings have distinctive features like a turret or a first-floor terrace. This grid can be a little repetitive, and makes all the areas feel the same, but it's easy to navigate.
Plusieurs quartiers du nord à l'est des quartiers de l'ancien centre-ville ont été urbanisés après 1850, quand les fortifications ont été démolies. Ils sont construits sur une grille orthogonale presque nord-sud avec des blocs d'environ 100 m de long. Les coins des blocs sont coupés, de telle manière que les carrefours sont orthogonaux. La plupart des bâtiments ont des façades de 4 à 6 étages, suivant les bords des blocs. Quelques bâtiments ont des signes distinctifs comme une tourelle ou une terrasse. Cette grille peut être assez répétitive, donnant l'impression que tous les endroits se ressemblent, mais c'est facile d'y trouver son chemin.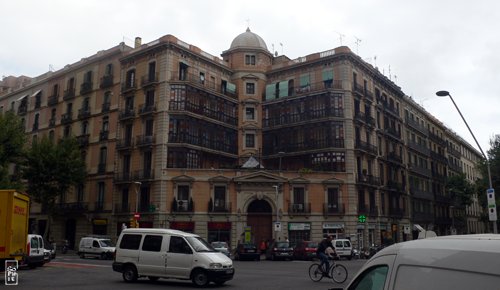 "What's inside the blocks?" is the question that pops up when you've got a room on the street side and never manage to enter a block. The center of the block can be occupied by gardens, garages or low buildings.
« Qu'y a-t-il au centre des blocs ? » est la question qu'on se pose quand on a une chambre du côté de la rue et qu'on n'arrive jamais à entrer dans un bloc. Le centre des blocs peut être occupé par des jardins, des garages ou des bâtiments bas.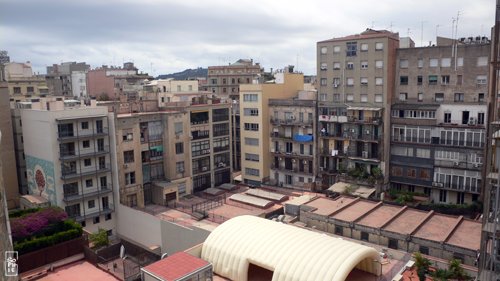 Barcelona, Catalonia, Spain 06/2007