Water in
Mies van der Rohe

pavilion
Eau dans le pavillon
Mies van der Rohe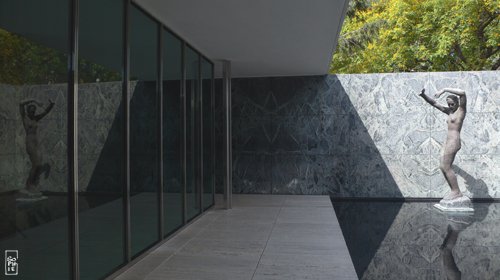 The place I like best is the northern end of the pavilion, is is enclosed in walls, has a roofless pool of shallow water. Beside the pool is a roofed outside deck. In the pool, the architect has placed a figurative sculpture of a naked woman with raised arms ("Daybreak" by Georg Kolbe), which I don't really like in itself, but it is nicely reflected in the glass wall and adds an interesting reference visible from many parts of the building.
What I like most about this space is the fact that is is closed to the outside, but completely open to the sky.
L'endroit que je préfère est l'extrémité nord du pavillon, qui est entourée de murs, et a un bassin peu profond dans toit. Le long du bassin on trouve un pont couvert extérieur. Dans le bassin, l'architecte a placé une sculpture figurative d'une femme nue aux bras levés (« Lever du jour » de Georg Kolbe), que je n'aime pas trop en tant que telle, mais qui est joliment réfléchie dans les murs de verre et ajoute une référence intéressante, visible de beaucoup d'endroits du bâtiment.
Ce que je préfère dans cet espace est le fait qu'il est entièrement fermé à l'extérieur, mais complètement ouvert vers le ciel.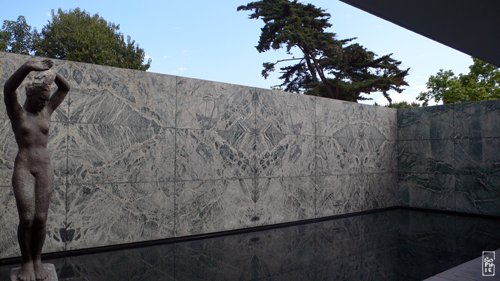 Barcelona, Catalonia, Spain 06/2007