Sagrada Família

Passion sculptures
Sculptures de la Passion de la
Sagrada Família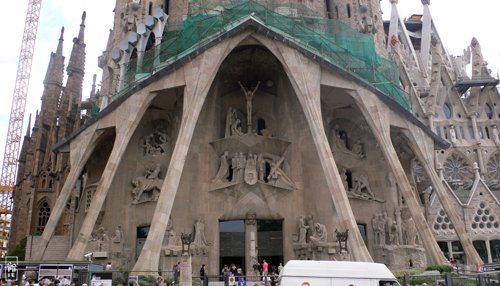 The building is overlooked by a committee of architects trying to follow Gaudì's design after his death. At the foot of its towers, the Passion facade has 6 oblique columns, sheltering powerful sculptures by Josep Subirachs, quite different from the Nativity facade, although the helmeted guards are very close to the chimneys seen on the terrace of La Pedrera.
La construction est dirigée par un comité d'architectes qui essaient de suivre les dessins de Gaudì après sa mort. Au pied de ses tours, la façade de la Passion a 6 colonnes obliques, abritant des sculptures puissantes de Josep Subirachs, assez différentes de la façade de la Nativité, bien que les casques des guardes armés soient très proches des cheminées de la terrasse de La Pedrera.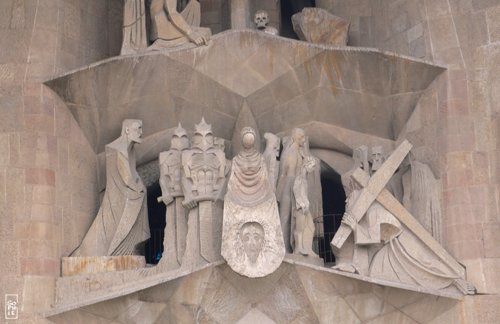 I find this facade is more interesting than the Nativity one, because the sculptures stand out more on a flat background. There is a horseman full of movement on the left side of the facade.
Je trouve que cette façade est plus intéressante que celle de la Nativité, parce que les sculptures ressortent mieux sur un fond plat. Il y a un cavalier plein de mouvement du côté gauche de la façade.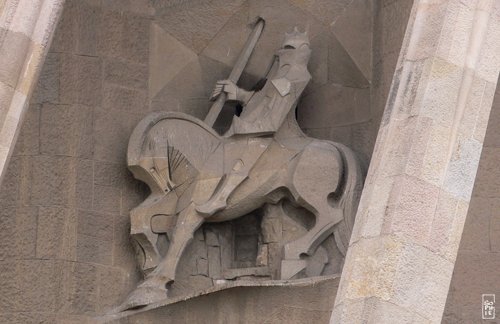 Barcelona, Catalonia, Spain 06/2007