Beams of the Cornish engines
Levier des machines de Cornouailles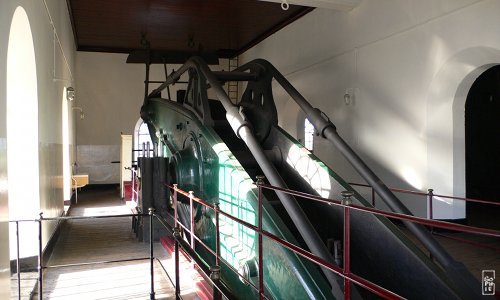 The Cornish non-rotative beam engines are 3 storeys high, they produce a translation movement. The beam is on the top floor, one side linked to the cylinder, the other to the pump. Above is the 1846 90″ engine, the biggest cornish engine in working order in the world. It was used to pump water for 97 years, stopped in 1946, and was restored in 1976.
Les machines non rotatives à levier de Cornouailles font 3 étages, et produisent un mouvement de translation. Le levier est au dernier étage, un côté relié au cylindre, l'autre à la pompe. Ci-dessus, la machine de 90″ de 1846, la plus grande machine de Cornouailles en état de marche du monde. Elle a été utilisée pour pomper de l'eau pendant 97 ans, arrêtée en 1946, et restaurée en 1976.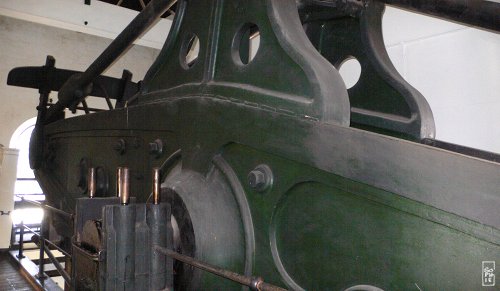 The 1869 100″ engine is undergoing restoration, it used to pump in synchronized alternation with its "smaller" 90″ counterpart. It last worked in 1958.
La machine de 100″ de 1869 est en cours de restauration, elle pompait en alternance synchronisée avec sa jumelle « plus petite » de 90″. Elle a fonctionné pour la dernière fois en 1958.
Kew Bridge Steam Museum website.
Site du Kew Bridge Steam Museum.
Kew Bridge Steam Museum, London, United-Kingdom—03/2009