Sandwich terns
Sternes caugek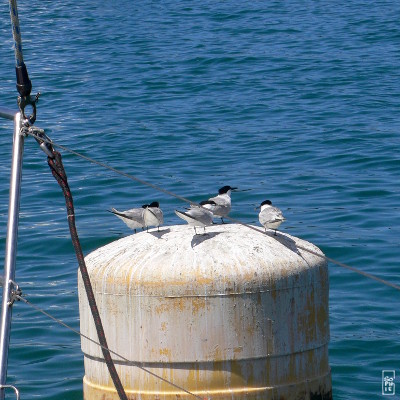 These sandwich terns find the buoys in Douarnenez Rosmeur harbour very convenient, as the white guano stains attest. They can rest after a good fishing session, I observed them taking care of their plumage.
Up to 5 terns can feel comfortable on a buoy, if another tern arrives and lands, one leaves.
Ces sternes caugek trouvent que les coffres du port du Rosmeur à Douarnenez sont très pratiques, comme l'attestent les taches de guano blanc. Elles peuvent se reposer après une bonne partie de pêche, je les ai observées en train d'entretenir leur plumage.
Jusqu'à 5 sternes peuvent tenir sur un coffre, si une sterne de plus arrive et se pose, une résidente s'en va.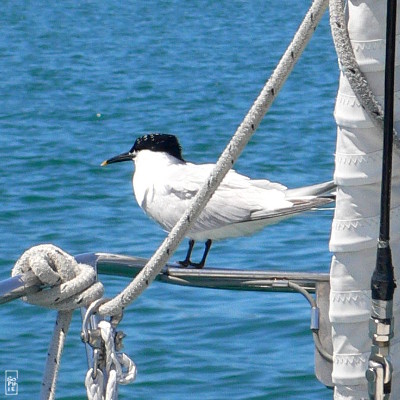 The boat we were on, moored to the buoy, was also found suitable by this tern, which makes a very beautiful bow figure, and was kind enough not to add guano to the boat.
I'm used to see common terns but it's the first time I've seen sandwich terns (black feet and a black beak with a yellow tip are distinctive).
Le bateau sur lequel nous étions, mouillé au coffre, a aussi été approuvé par cette sterne, qui fait une jolie figure de proue, et a été assez sympa pour ne pas ajouter de guano au bateau.
J'ai l'habitude de voir des sternes pierregarin mais c'est la première fois que j'ai vu des sternes caugek (les pattes noires et le bec noir avec une pointe jaune sont distinctifs).
Douarnenez, Finistère, France—07/2013