Up the
Aulne

river
Remontée de l'Aulne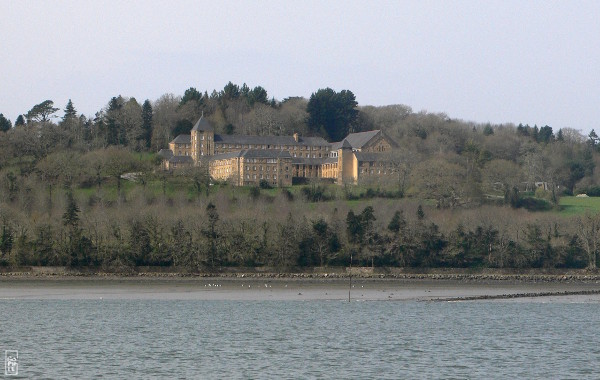 After leaving the southern part of Brest harbour and entering the Aulne river, the first sharp turn of the river to the south goes around the village of Landévennec and its big abbey perched above the river. On a sunny day, the stone walls have a yellow tinge.
Après avoir quitté lar partie sud de la rade de Brest et être entrés dans la rivière Aulne, le premier coude prononcé de la rivière vers le sud s'enroule autour du village de Landévennec et de sa grand abbaye perchée au-dessus de la rivière. Par un jour ensoleillé, les murs de pierre sont teintés de jaune.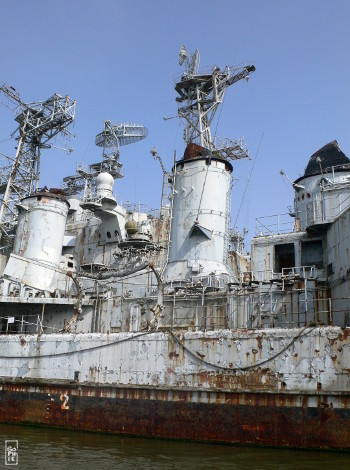 The next bend turns west, still in Landévennec, and you discover the spot where the French navy stores some of its decommissioned hulls, the boat cemetery. I like the mix of flaked paint and rusty steel.
Le méandre suivant tourne vers l'ouest, toujours à Landévennec, et on découvre l'endroit où la marine française stocke certaines de ses coques désaffectées, le cimetière de bateaux. J'aime le mélange de peinture écaillée et d'acier rouillé.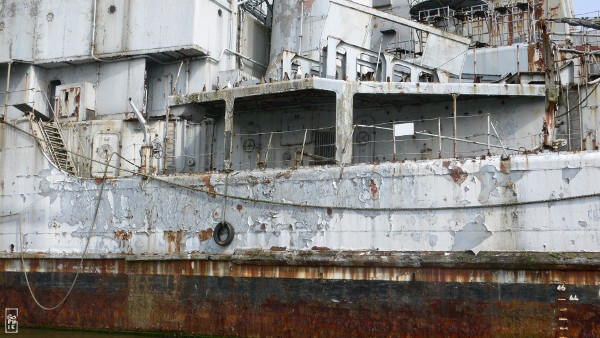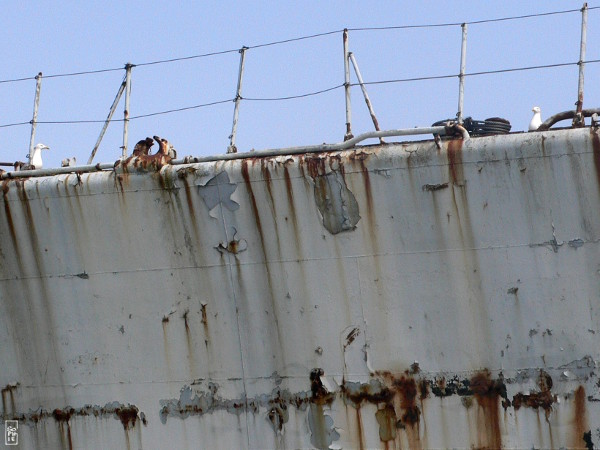 Lots of seagulls are nesting on these handy locations, checking us as we sail along.
Beaucoup de goélands nichent sur ces perchoirs pratiques, certains nous surveillent pendant que nous naviguons le long des bateaux.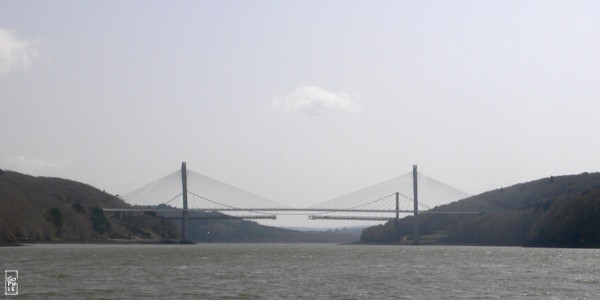 Another bend turning southeast and we see the bridges of Térénez. As the concrete of the old bridge was diseased, a new curved suspension bridge has been built, and now that it is complete, the old bridge is being demolished.
Une autre courbe vers le sud-est et nous apercevons les ponts de Térénez. Comme le béton du vieux pont était malade, un nouveau pont suspendu courbe a été construit, et puisqu'il est en service, le vieux pont est en cours de démolition.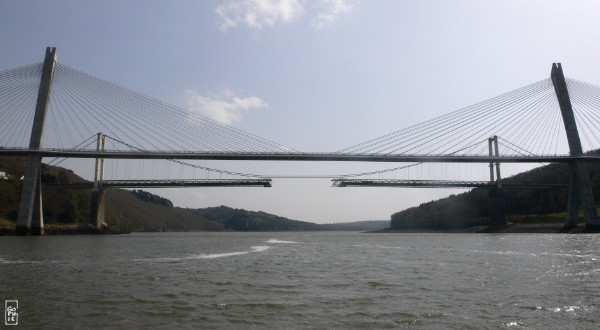 The demolition works as the reverse of building: keep the suspension cables, open the bridge at the middle and gradually take back the road and structure. Then take off the cables and demolish the towers.
La démolition se passe dans le sens inverse de la construction : en gardant les câbles de suspension, on ouvre le tableau au milieu et on démonte progressivement la route et la structure. Ensuite on enlève les câbles et on démolit les pylônes.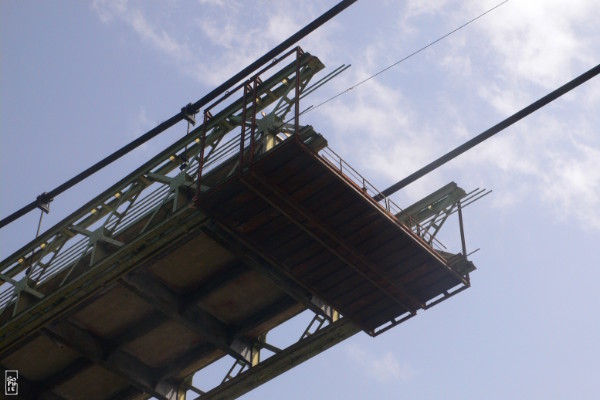 Brest, Finistère, France—03/2014