European shags on
La Malouine

rock
Cormorans sur le rocher de La Malouine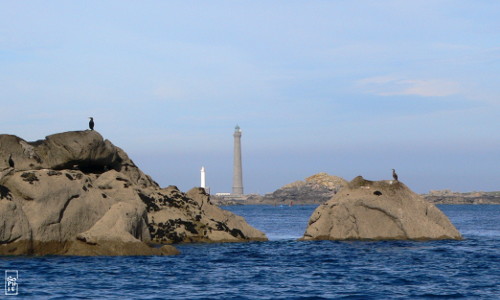 European shags use La Malouine rock to rest between fishing bouts. They seem to be watching over the lighthouses behind. Some stand with their wings open in the familiar pose, probably to dry their feathers, maybe for another purpose. They have "painted" the rock with a good amount of guano.
Les cormorans utilisent le Rocher de La Malouine comme perchoir après la pêche. On dirait qu'ils veillent sur les phares situés en arrière-plan. Certains sont posés avec les ailes ouvertes dans une pose familière, sans doute pour sécher leur plumage, peut-être pour une autre raison. Ils ont « repeint » le rocher avec une bonne quantité de guano.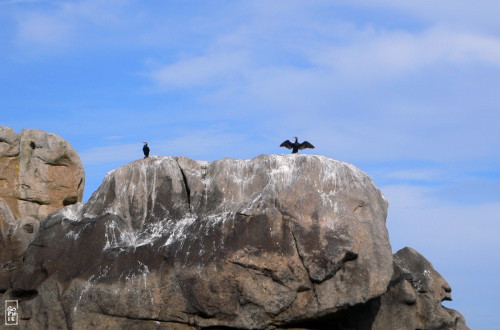 Desktop wallpaper—Fond d'écran :
320×480 640×960 640×1136240×320240×400480×854540×960 480×800720×12801024×10242048×2048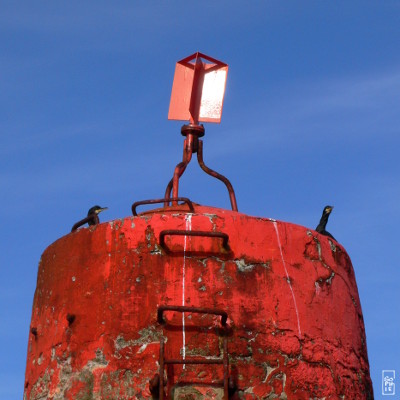 As we go along the red stone tower south of the rock, they check we are not a threat then resume their rest. I love the old red paint colour against the sky. The steel port sign at the top of the tower has been bent by waves.
Pendant que nous passons le long de la tourelle rouge au sud du rocher, ils vérifient que nous ne sommes pas une menace puis reprennent leur repos. J'aime beaucoup la couleur rouge de la vieille peinture devant le ciel. Le signe babord métallique en haut de la tour a été plié par les vagues.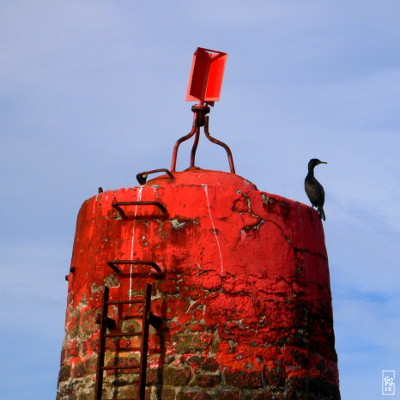 Desktop wallpaper—Fond d'écran :
480×320 960×640 800×480 1024×10242048×2048640×480800×6001024×7681152×8641280×9601280×10241600×12001024×6001280×7681280×8001366×7681440×9001680×10501920×10801920×12002560×14402560×16002880×1800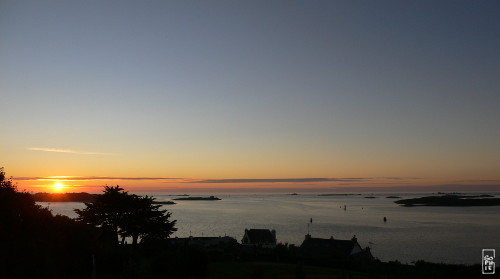 Once we get back to Aber Wrac'h, we enjoy a sunset seen from the semaphore lookout.
Une fois revenus à l'Aber Wrac'h, nous apprécions un coucher de soleil vu du sémaphore.
Aber Wrac'h, Finistère, France—08/2011