La Martyre

caryatid
Cariatide de La Martyre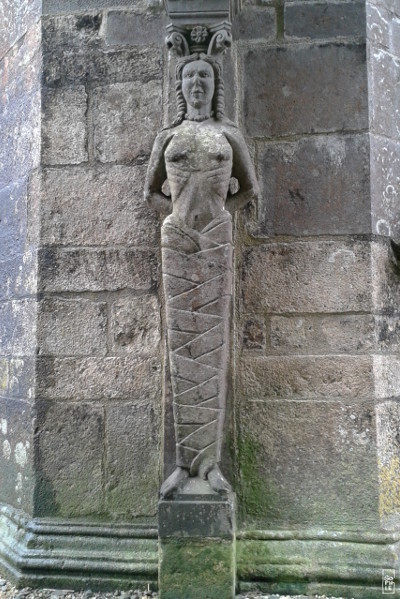 Churches in western Brittany are often inside richly sculpted enclosures called parish closes. In La Martyre, this granite caryatid is supporting an angle of the entrance porch of the church. As the ossuary was built in 1619, the angle was cut to allow for passage and this caryatid was added to reinforce the structure.
She's a mysterious mix of classical and local features and her body looks like a mummy. Her bare chest above her bandaged legs are very stylized, while her stare is quite harsh in a quite naturalistic soft round face. The two architectural volutes above her hair add a devilish touch.
Les églises de l'ouest de la Bretagne sont souvent enfermées dans des enclos paroissiaux richement sculptés. À La Martyre, cette cariatide de granit supporte un angle du porche d'entrée de l'église. Quand l'ossuaire a été construit en 1619, l'angle a été coupé pour permettre le passage et la cariatide a été ajoutée pour renforcer la structure.
Elle est un mélange mystérieux de détails classiques et locaux et son corps ressemble à une momie. Son torse nu et ses jambes enfermées dans des bandelettes sont très stylisés, alors que son regard plutôt rude dans un visage doux et rond sont plutôt naturalistes. Les deux volutes architecturales au-dessus de ses cheveux lui ajoutent un petit côté diabolique.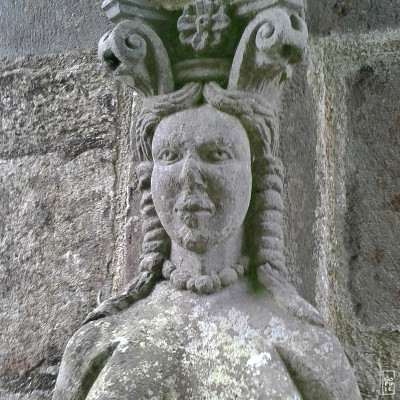 La Martyre, Finistère, France—04/2014