Beached object
Laisse de mer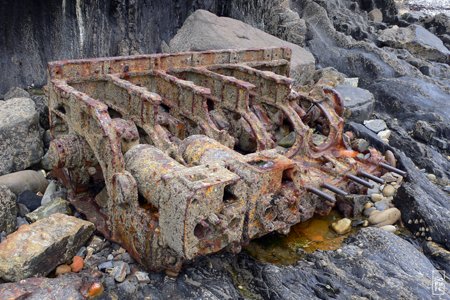 Just above the cliff sits a nice pancake house, Les Korrigans, and as we had a nice meal, they told us the story of this beached object. It is the remains of the engine of a trawler that was wrecked on this beach in the 1950s.
Au-dessus de la falaise, il y a une bonne crêperie, Les Korrigans, et pendant que nous y dégustions quelques crêpes, ils nous ont raconté l'histoire de cette laisse de mer. Ce sont les restes du moteur d'un chalutier qui a fait naufrage sur cette plage dans les années 1950.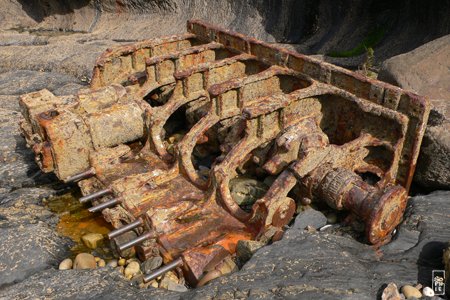 It is huge, about 2 m long, all rusty and it has partially hollowed out the rock on which it is sitting.
Il est très gros, à peu près 2 m de long, tout rouillé et il a partiellement creusé le rocher sur lequel il repose.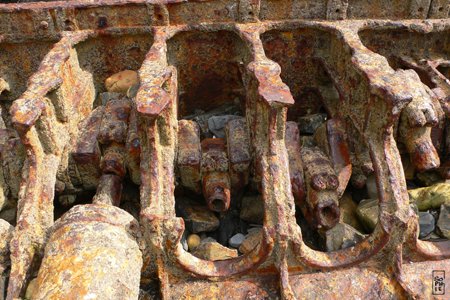 Only 2 huge pistons remain, welded to the main frame by rust and barnacles.
Seuls 2 gros pistons sont encore présents, soudés à la structure principale par la rouille et les berniques.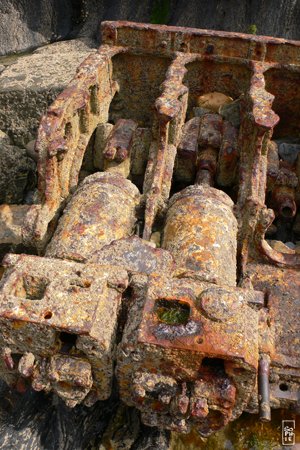 Crozon, Finistère, France—08/2007