Quarantine islands
Îles de la quarantaine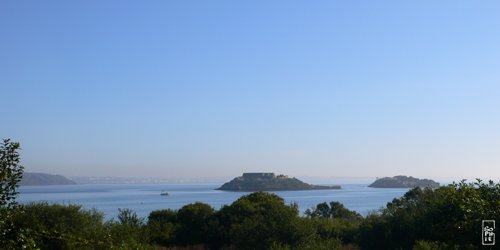 In the Roscanvel bay, two islands were used as a quarantine for ships arriving in Brest with sick people. One is named Île des morts (island of the dead), the dead were buried there if they didn't survive their 40 days stay on the other island, called Trébéron. Subsequently the Île des morts became a powder keg (with buildings visible on the photo above) and all quarantine activities remained on Trébéron. A small rock nearby is called Île perdue (lost island), adding to the gloomy feeling.
Dans la baie de Roscanvel, deux îles étaient utilisées comme quarantaine pour les bateaux arrivant à Brest avec des malades. L'une est nommée Île des morts, où on enterrait ceux qui n'avaient pas survécu à leur séjour de 40 jours sur l'autre île, l'île Trébéron. Ensuite l'Île des morts devint une poudrière (avec des bâtiments visibles sur la photo ci-dessus) et toutes les activités de quarantaine furent rassemblées sur Trébéron. Un petit rocher proche s'appelle l'Île perdue, ce qui ajoute à la tristesse ambiante.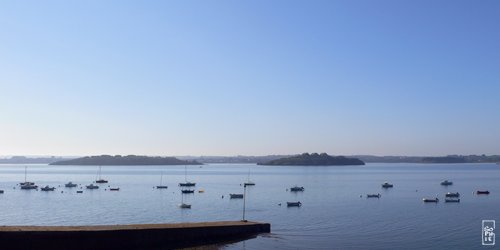 The Roscanvel harbour is a very sheltered but simple anchorage.
Le port de Roscanvel est un simple mouillage très bien abrité.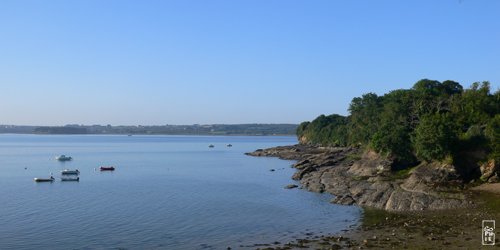 Roscanvel, Finistère, France—08/2007