A Passage: The Palm House

Location: Kew Gardens, United–Kingdom.
Destination: Calvani.
Discoverer: The architect Decimus Burton.
Ferryman: No.
Status: Opening possible.
Mean: Passages.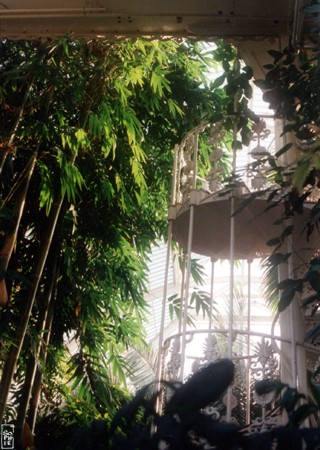 It is clearly one of Calvani's greenhouses which is "set" in the middle of Kew Gardens Botanical Garden.
Built in 1848 by Decimus Burton, the "Palm House" greenhouse, made of iron and glass, shelters in a pure form tropical plants which reach record-breaking sizes.
Although this architect style started with a very classical manner, a fascination for technique and some completely different work led him up to the Kew Gardens greenhouse.
Did the architect take his inspiration from accounts of people who had seen Calvani or who came from Calvani, or did he knowingly try to build a passage?
Among Decimus Burton's work, we can also mention Regent's Park Colosseum, with its dome bigger than Saint Paul's, which contained a panorama of London. Of course Calvani's Unexpected Discovery springs immediately to our minds.
How can we cross to Calvani? Shall we get lost among the palm trees, do down to the basement and look for the tunnel which brought the hot water, or climb up the stairs towards the footbridge? I didn't find, it's up to you to try…
Kew Gardens, Richmond, United-Kingdom—02/2000