Cape Clear & Baltimore
Cape Clear

&

Baltimore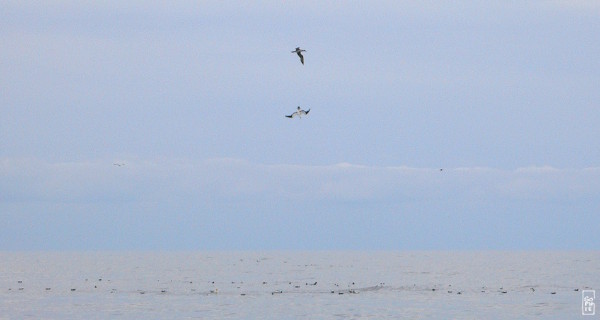 As we sail, there are patches were birds are fishing above schools of fish. Guillemots swim on the surface and dive, shearwaters fly low and dive too, while gannets fly high, do a sharp turn then dive with their wings folded, stunning fish below the surface.
Pendant que nous naviguons, il y a des endroits où les oiseaux sont en train de pêcher sur des bancs de poissons. Les guillemots nagent puis plongent, les puffins des anglais volent bas et plongent aussi, pendant que les fous de Bassan volent haut, font un demi-tour puis plongent avec les ailes repliées, assommant les poissons sous la surface.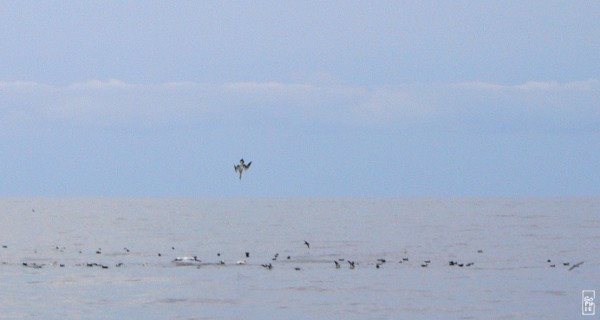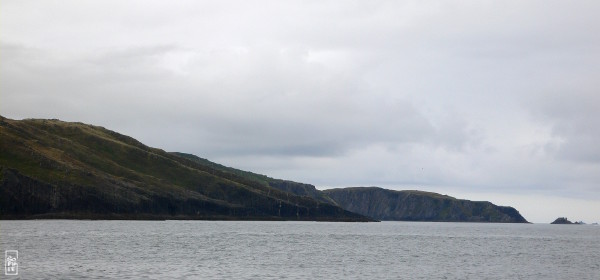 The cliffs look impressive under a grey sky.
Les falaises sont impressionnantes sous le ciel gris.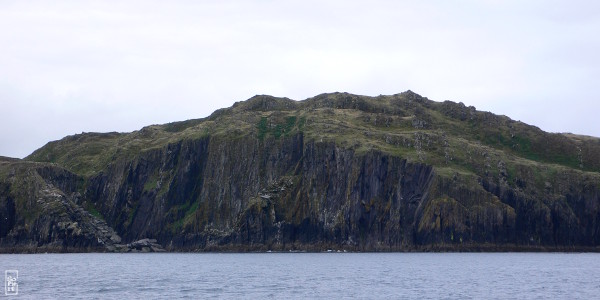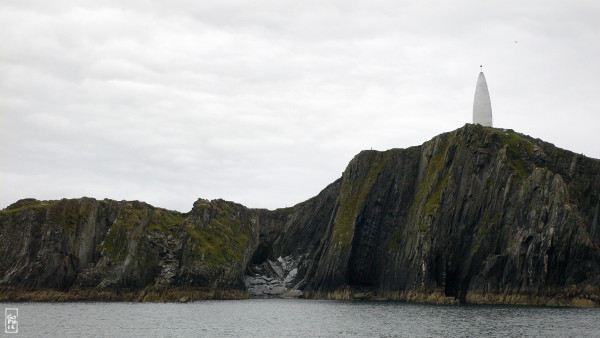 Before we arrive in Sherkin island, we pass below the white beacon marking the entrance to Baltimore harbour. It's nicknamed "Lot's wife" as she's supposed to have been turned into a pillar of salt.
Avant d'arriver à Sherkin island, nous passons sous l'amer blanc marquant l'entrée du port de Baltimore. Il est surnommé « la femme de Lot » puisqu'elle est censée avoir été transformée en pilier de sel.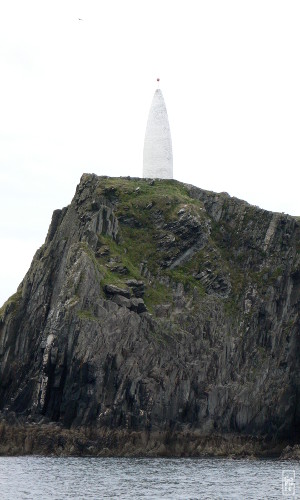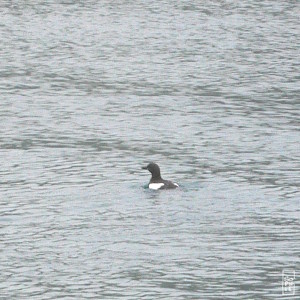 In Sherkin island, we see black guillemots and a seal observes me while I swim. Then it's time to leave and our last glimpse of Ireland is the white beacon shrouded in mist, with the sails of the Glénans sailing school boats beneath it.
À Sherkin island, nous voyons des guillemots à miroir et un phoque m'observe pendant que je nage. Puis il est temps de partir et notre dernière image de l'Irlande est l'amer blanc dans la brume avec les voiles des bateaux de l'école des Glénans en dessous.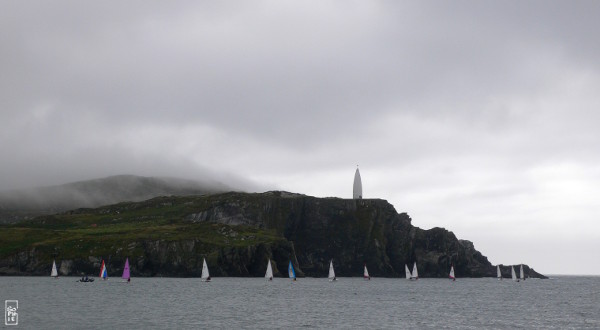 Long island bay, County Cork, Ireland—08/2013