Casa Batlló

facade
Façade de la
Casa Batlló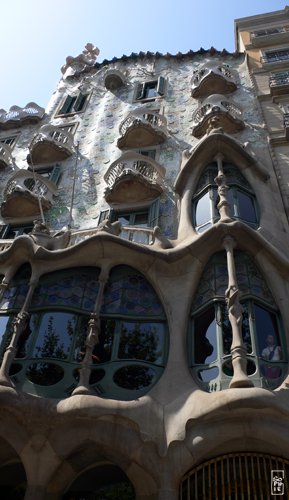 The first floor windows and one second floor window are framed by curved ridges, and are split by columns reminiscent of bones, the building was nicknamed the House of bones. Most upper windows have curved wrought iron balconies.
Les fenêtres du premier étage et l'une de celles du deuxième sont encadrées de crêtes courbes, et sont divisées par des colonnes rappelant des os, ce qui a valu le surnom de Maison des os au bâtiment. La plupart des fenêtres du haut ont des balcons courbes de fer forgé.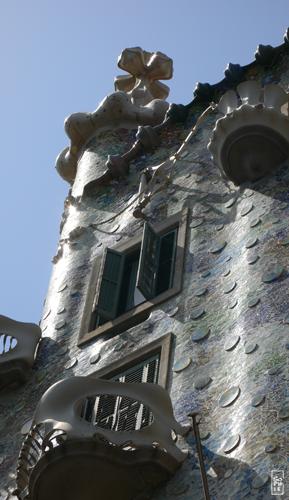 The curved surface of the facade is covered in coloured broken ceramics, with circular medallions resembling those on the terrace.
La surface courbe de la façade est couverte de céramique brisée, avec des médaillons circulaires comme ceux de la terrasse.
Barcelona, Catalonia, Spain 06/2007