Sailing with
François Monique
Navigation avec
François Monique
In Aber Wrac'h we have caught up with François Monique, a scallops dredging sloop sloop built in Brest harbour (Le Fret, Tertu shipyard) in 1935. She is almost a sister ship of Bergère de Domrémy.
After leaving Brest in the 70s to sail around France and in northern Europe, she was bought in 2008 by someone living in Trouville (Normandy), and renovated to bring her back to her original name, rigging and looks.
À l'Aber Wrac'h nous avons rattrapé François Monique un coquillier construit en rade de Brest (au chantier Tertu du Fret) en 1935. Elle est presque identique à la Bergère de Domrémy.
Après avoir quitté Brest dans les années 70 pour naviguer autour de la France et en Europe du Nord, elle a été achetée en 2008 par quelqu'un qui habite à Trouville (Normandie), rénovée et remise dans son gréement et son état d'origine et a repris son nom.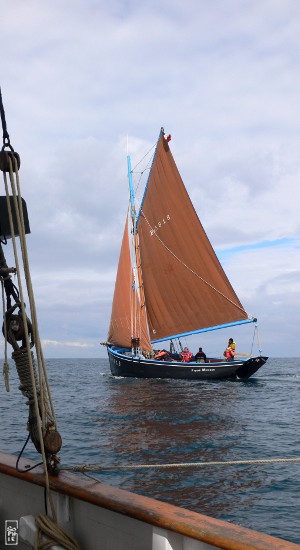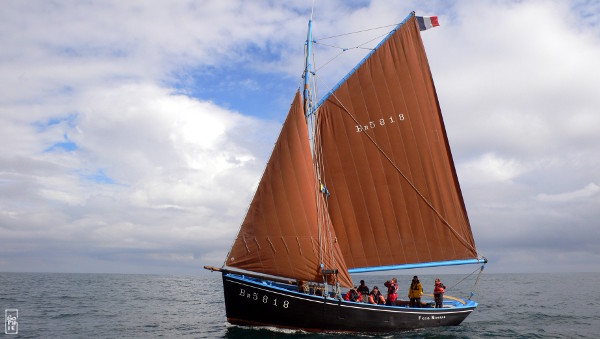 As she was built to sail almost only in Brest harbour, this comeback trip is quite a feat for her, even if she has a watertight deck, unlike Bergère de Domrémy. Her small hull partly disappears behind the moderately-sized waves.
Comme elle a été construite pour naviguer presque uniquement en rade de Brest, ce trajet de retour est plutôt impressionnant pour elle, même si son pont est étanche, contrairement à celui de Bergère de Domrémy. Sa petite coque disparaît partiellement derrière les vagues de taille moyenne.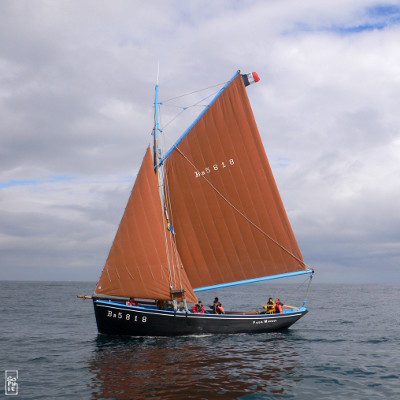 Desktop wallpaper—Fond d'écran :
320×480480×320640×960960×640640×1136240×320240×400480×854540×960800×480480×800720×12801024×10242048×2048640×480800×6001024×7681152×8641280×9601280×10241600×12001024×6001280×7681280×8001366×7681440×9001680×10501920×10801920×12002560×14402560×16002880×18002048×7682560×10243200×1200
Marie-Fernand website – François Monique website.
Site de Marie-Fernand – Site de François Monique.
English channel & Iroise sea, Finistère, France—07/2012