From
Le Conquet

to

Les Pierres Noires
Du Conquet aux Pierres Noires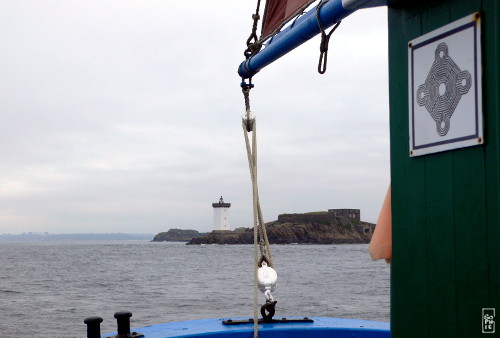 In the morning we leave Le Conquet, with the first lighthouse of the trip, Kermorvan lighthouse, marking the entrance to the harbour.
Nous quittons Le Conquet le matin et passons près du premier phare du voyage, le phare de Kermorvan qui marque l'entrée du port.
We go south a little to get to Saint-Mathieu head, with its abandoned abbey and the lighthouse embedded among its buildings.
Nous partons un peu vers le sud et allons à la pointe Saint-Mathieu, avec son abbaye abandonnée et le phare intégré parmi ses bâtiments.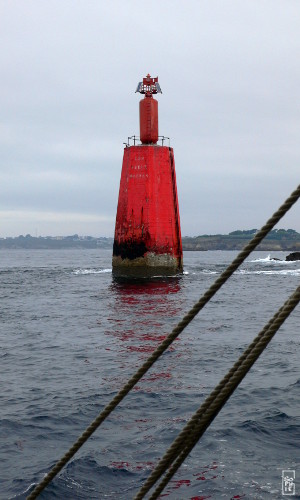 Next to Saint-Mathieu head is the Vieux Moines tower, the last beacon along the north-south coast before you turn east to go towards Brest harbour.
Près de la pointe Saint-Mathieu se trouve la tourelle des Vieux Moines, la dernière marque le long de la côte nord-sud avant de tourner vers l'est pour aller vers la rade de Brest.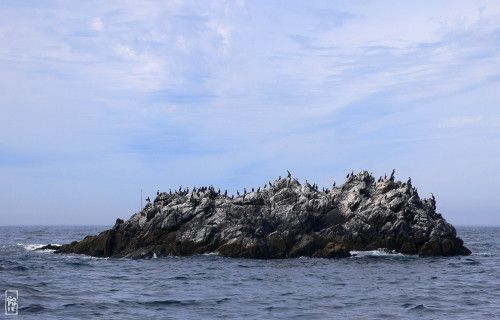 We turn west to go and see the Pierres Noires lighthouse, and go along several intimidating rocks, I think the one above is called Bozmen, it seems to be very much appreciated real estate for european shags.
Nous tournons vers l'ouest pour aller vers le phare des Pierres Noires, et passons le long de plusieurs rochers intimidants, je crois que celui de dessus est appelé Bozmen, il a l'air très apprécié par les cormorans.
Notre-Dame de Rumengol website.
Site de Notre-Dame de Rumengol.
Mer d'Iroise, Finistère, France—08/2011