Along the
Glénan

islands
Le long des Îles des Glénan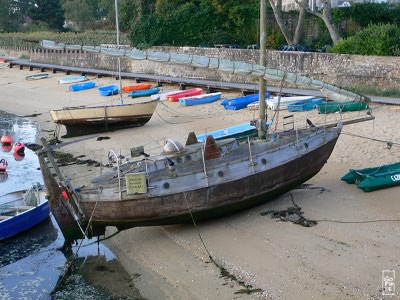 We start from Lorient, after "admiring" a weird boat moored in the harbour, with a hull like a submarine and a lateen sail, called Zébulon.
Nous quittons Lorient, non sans avoir « admiré » un étrange bateau amarré dans le port, avec une coque de sous-marin et une voile latine, le Zébulon.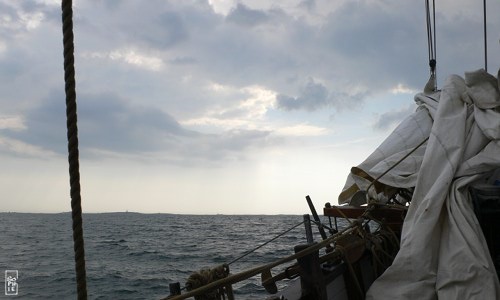 A nice wind pushes us along Groix island to the west, but subsides before we get to the Glénan islands.
Un bon vent nous pousse le long de l'île de Groix vers l'ouest, mais tombe avant que nous arrivions aux Îles des Glénan.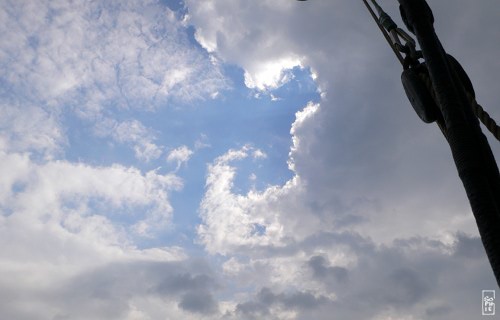 The sky is heavy with dark grey clouds, interspersed by patches of blue sky where sunlight pierces through, making Lola' deck shine.
Le ciel est lourd avec de gros nuages gris, entrecoupés de taches de ciel bleu où le soleil les déchire, faisant briller le pont de Lola.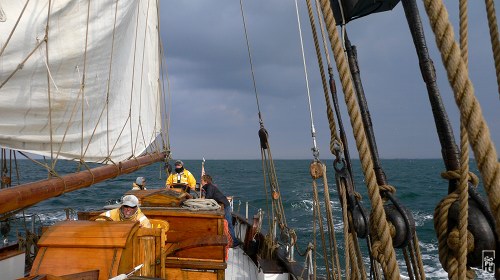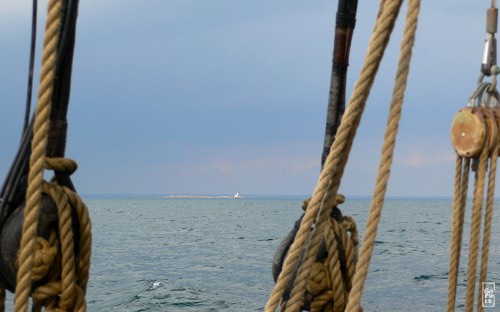 South of the Glénan islands, the Moutons island and its lighthouse stand in a patch of sunlight. It is a refuge for 2 species of terns (common and sandwich), and a guard lives alone there during breeding season to protect the birds from visitors trampling their nests on the shore.
Au sud des Îles des Glénan, l'Île aux Moutons et son phare sont sous un rayon de soleil. C'est un refuge pour 2 espèces de sternes (pierregarin et caugek), et un guarde vit seul sur l'île pendant la saison de reproduction pour protéger les oiseaux du piétinement de leurs nids par les visiteurs sur la côte.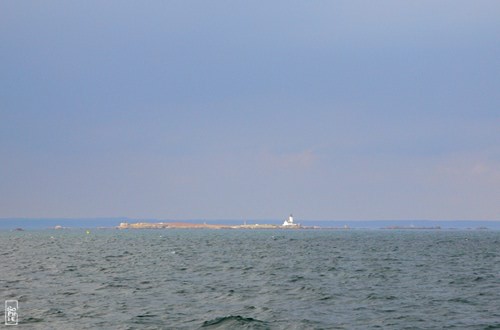 Lola of Skagen website
Site de Lola of Skagen
Bay of Biscay (Golfe de Gascogne), France—07/2011