Transporter bridge—2
Pont transbordeur—2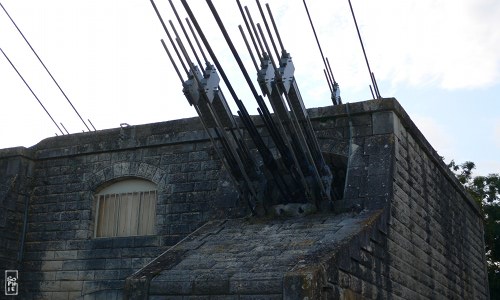 The suspension cables are anchored to a stone building on each bank of the river. Counterweights are attached to each side of the horizontal frame. The gondola is suspended to this frame, and a cable is coiled on one side to make the gondola travel across the river.
Les câbles de suspension sont ancrés à un bâtiment en pierre sur chaque rive de la rivière. Des contrepoids sont fixés sur la structure horizontale. La nacelle est suspendue à cette structure, et un câble est enroulé d'un côté pour la faire traverser.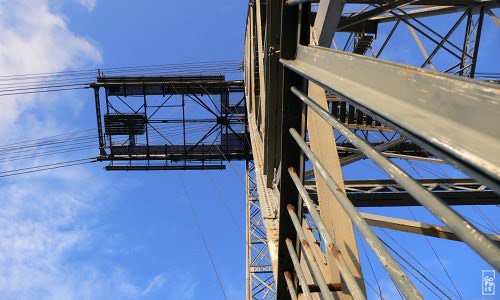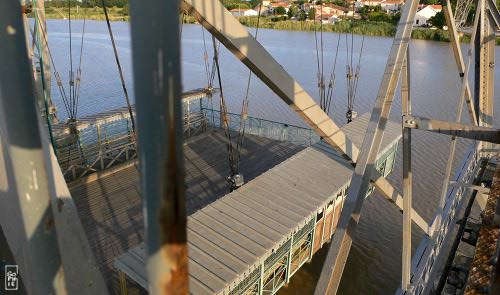 The gondola can carry 14 tons from one side to the other. Transporter bridges were often used in harbours, to allow to cross water without blocking sailship traffic. As the Rochefort shipyards were situated upstream this kind of bridge was one of the only solutions available besides a ferry. A drawbridge was built in 1967 to replace it, then a viaduct.
La nacelle peut transporter 14 tonnes d'un côté à l'autre. Les ponts transbordeurs étaient souvent utilisés dans les ports, pour traverser un bras d'eau sans gêner le trafic des bateaux à voile. Comme l'arsenal de Rochefort était en amont, ce type de pont était l'une des seules solutions disponibles pour remplacer un bac. Un pont levant a été construit en 1967 pour le remplacer, puis un viaduc.
Rochefort, Charente-Maritime, France—06/2011