Sunset in
pertuis d'Antioche
Coucher de soleil dans le pertuis d'Antioche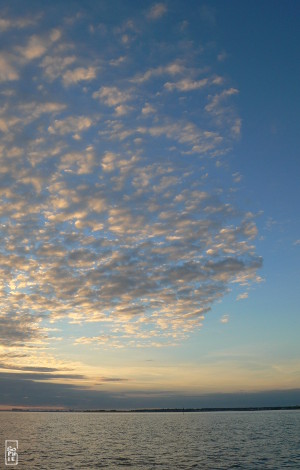 On sunday we head back to Oléron harbour under small cumulus clouds that take the sunset light.
Le dimanche nous rentrons vers le port d'Oléron alors que des petits cumulus prennent la lumière du coucher de soleil.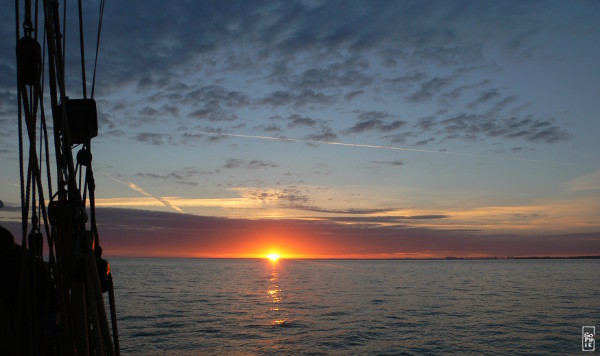 The sunset is a strong orange line on the horizon, under a layer of clouds.
As we leave the island, the last rays of light of the day shine behind Louvois fort (part of the defenses of the islands built at the end of the 17th century) and the Oléron bridge.
Le coucher de soleil est une ligne orange sur l'horizon, sous une couche de nuages.
Quand nous quittons l'île, les dernières lueurs du jour brillent derrière le fort Louvois (qui fait partie des défenses des îles construites à la fin du XVIIe siècle) et le pont de l'île d'Oléron.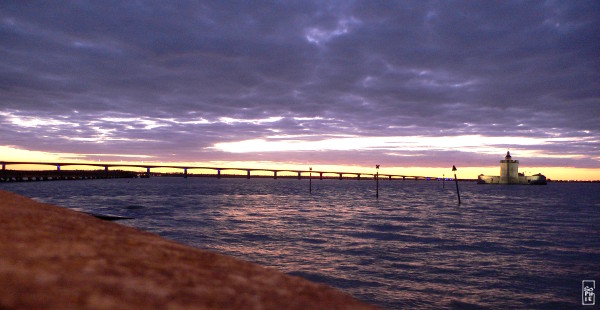 Lola of Skagen website
Site de Lola of Skagen
Bay of Biscay (Golfe de Gascogne), France—10/2013