On the quays in
Le Havre
Sur les quais du Havre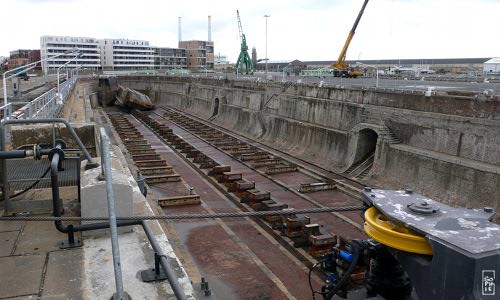 After leaving the Marie-Fernand, we checked the quays close to it, first finding a very big drydock, next to which a 6 m wide propeller is stored. Cast in 1976, it weighs more than 23 tons.
Après avoir laissé le Marie-Fernand, nous avons parcouru les quais alentour, trouvant tout d'abord une très grande forme de radoub, à côté de laquelle une hélice de 6 m de diamètre est posée. Fondue en 1976, elle pèse plus de 23 tonnes.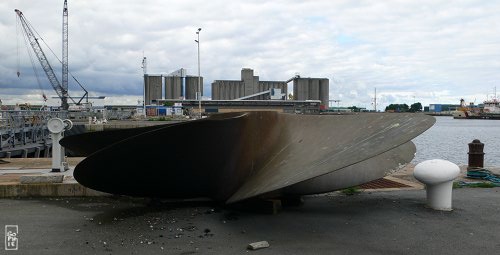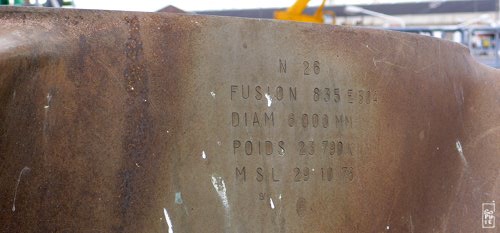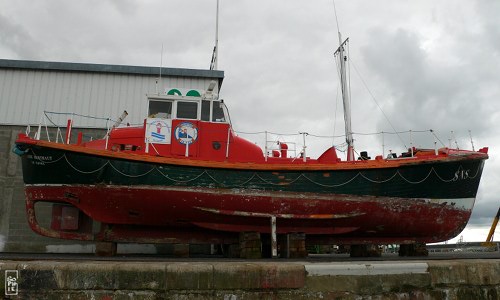 A lifeboat is also stored on the quais, its name is Leon Berthaut. It was built in 1956, and served in Le Havre, then in Granville between 1970 and 1990, for the Hospitaliers Bretons lifesaving society (now Société Nationale de Sauvetage en Mer, SNSM). It has a wooden hull with copper watertight compartments inside. It is kept as memory of lifeboat construction techniques.
Un canot de sauvetage est également stocké sur les quais, son nom est Leon Berthaut. Construit en 1956, il a servi au Havre, puis à Granville de 1970 à 1990, pour la société de sauvetage des Hospitaliers Bretons (devenue la Société Nationale de Sauvetage en Mer, SNSM). Il a une coque en bois avec des compartiments étanches en cuivre à l'intérieur, et est conservé comme témoin des techniques de construction de canots de sauvetage.
Marie-Fernand website – SNSM website.
Site de Marie-Fernand – Site de la SNSM.
Le Havre - Seine-Maritime—06/2011