Marie-Fernand

north of

Cotentin
Marie-Fernand au nord du Cotentin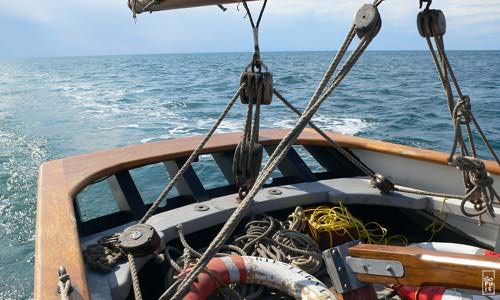 Marie-Fernand is a pilot cutter from Le Havre, built in 1894. I like the colours at the stern, wood, black and white paint, red of the safety buoys. The long line attached to one of the buoys is bright yellow, with one of the crew member's pipe on top.
Le Marie-Fernand est un cotre pilote du Havre construit en 1894. J'aime les couleurs à la poupe, du bois, la peinture noire et blanche, le rouge des bouées de sauvetage. Le long boute attaché à l'une des bouées est jaune pétant, avec la pipe d'un des membres d'équipage posées dessus.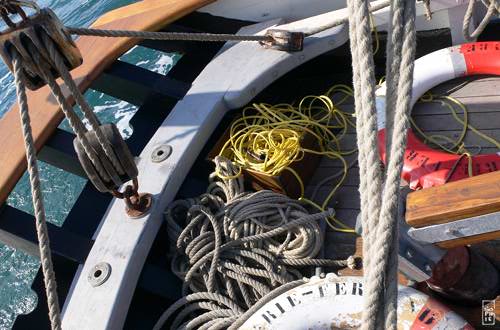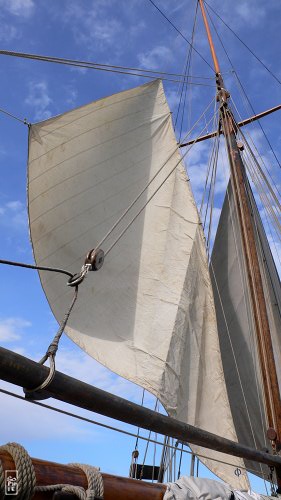 As we had torn our mainsail, we did most of the trip by engine power. But as we were sailing north of Cherbourg, we stopped it for a while to enjoy the silence, just powered by the headsails. It felt so good that we decided to be creative and try to use the gaff topsail in place of the mainsail. It was weird but gave us a knot more in speed. This triangular sail usually goes above the mainsail, between the mainsail gaff and the mast. Here we put it in a lower position, it was certainly not traditional but we had fun trying.
Comme nous avions déchiré notre grand-voile, nous avons fait la plupart du trajet au moteur. Mais au moment où nous naviguions au nord de Cherbourg, nous l'avons stoppé pour profiter du silence, avançant seulement grâce aux voiles d'avant. C'était si agréable que nous avons décidé d'être créatifs et d'essayer d'utiliser le flèche à la place de la grand-voile. C'était bizarre mais ça nous a donné un nœud de plus de vitesse. Cette voile triangulaire est d'habitude positionnée au-dessus de la grand-voile, entre le mât et le pic. Là nous l'avons placée plus bas, ce n'était absolument pas traditionnel mais nous nous sommes amusés à essayer.
Marie-Fernand website.
Site de Marie-Fernand.
English Channel-Manche—06/2011