Les Sables-d'Olonne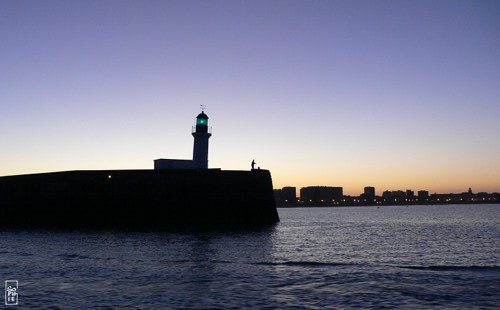 Desktop wallpaper—Fond d'écran :
320×480480×320640×960960×640640×1136240×320240×400480×854540×960800×480480×800720×12801024×10242048×2048640×480800×6001024×7681152×8641280×9601280×10241600×12001024×6001280×7681280×8001366×7681440×9001680×10501920×10801920×12002560×14402560×16002880×18002048×7682560×10243200×1200
As there is little wind and we need to cover distance, we leave Les Sables-d'Olonne before sunrise, passing along the jetty on which a lone fisherman is outlined by the first light of day.
Comme il y a peu de vent et que nous devons parcourir une bonne distance, nous quittons Les-Sables-d'Olonne avant le lever du soleil, en passant le long de la jetée sur laquelle un pêcheur solitaire se découpe devant les premières lueurs du jour.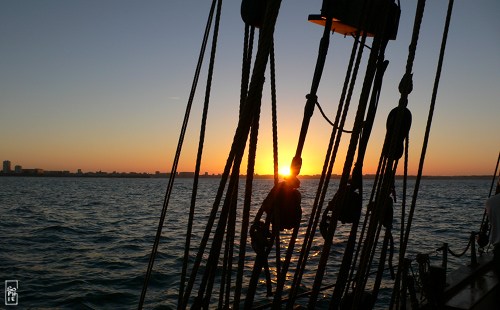 Desktop wallpaper—Fond d'écran :
320×480480×320640×960960×640640×1136240×320240×400480×854540×960800×480480×800720×12801024×10242048×2048640×480800×6001024×7681152×8641280×9601280×10241600×12001024×6001280×7681280×8001366×7681440×9001680×10501920×10801920×12002560×14402560×16002880×18002048×7682560×10243200×1200
The sun rises between Lola's ropes and pulleys and colours its sails, as the town recedes on the horizon.
Le soleil se lève entre les bouts et les poulies de Lola et colore ses voiles pendant que la ville disparaît à l'horizon.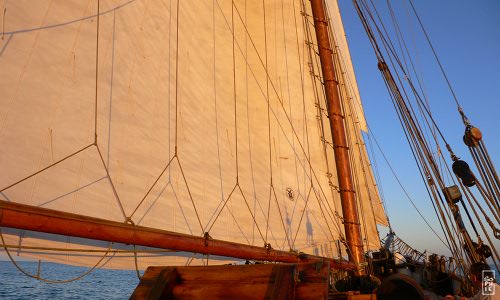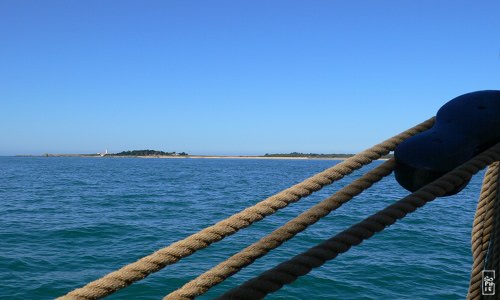 Most of the very sunny windless day is spent with the engine on, we sail by Yeu island. From time to time, we spot pods of dolphins fishing, sometimes leaping above the water, but they are not interested by our boat and goods photos are hard to get.
La plus grande partie de cette journée ensoleillée sans vent se passe au moteur, nous passons le long de l'île d'Yeu. De temps en temps, nous apercevons des groupes de dauphins qui pêchent, en sautant parfois au-dessus de l'eau, mais ils ne s'intéressent pas à notre bateau et ne sont pas faciles à photographier.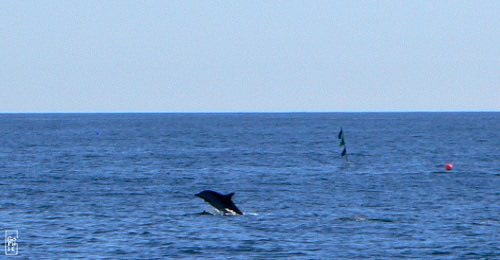 Lola of Skagen website
Site de Lola of Skagen
Bay of Biscay (Golfe de Gascogne), France—07/2010