Australia diary
3 - Jet-lagged Sydney
March 24, 2003
We're both tired and Fred is hungry. A fish and chips in Circular Quay saves him from hypoglycemia.
We head for the Botanical Gardens, where we sleep under the trees. The birds have changed, or the season is different. There are rather small grey birds with yellow around their eyes (Noisy Miners), three kookaburras look at us in an inquisitive and slightly agressive way. The ibis are even bolder when they try to steal food, so are the pigeons. The fruit bats are still here and they bicker noisily.
We remain comatose until 5PM and we get gack with Petrina, a good homemade pizza, then we watch the Oscars on TV. Michael Moore rags on George W.
Sleep.
March, 25 2003
We leave for Bondi where Fred finds the big wave exactly the same size as on the beach when he was a kid. I get dumped by one of them, impressive but I just only slightly rasped on the sand. Once you've gone through the waves, you can swim, or body-surf them back to the shore and start again.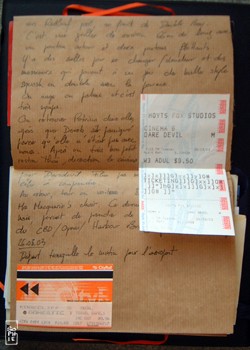 Lunch in town with Petrina, then we leave for Redleaf pool, at the end of Double Bay. It's a beach about 200 feet long, enclosed in bars (so that you're sure no sharks will get you), there's a wooden walkway around and two floating pontoons. There are changing rooms, showers, and four guys playing a game similar to squash with the palm of their hands.
We swim and finswim, this beach in town with all the comfort of a swimming pool is really pleasant.
We meet Petrina at her place, after giving Derek dog a fright: when we get back home, she wasn't with us, "who are these strangers entering my home"? After a very good Thaï restaurant, we're off to the movies (a big complex built around the Fox studios) to see Daredevil. This movie is not serious but not too difficult to understand without subtitles.

On the way back, we drive around: Darlinghurst, Oxford street, Mrs Macquarie's chair. This last place is a head situated at the end of the Botanical Gardens, further away from the CBD, where Misses Macquarie, the wife of the first governor of the colony, had had a seat put to enjoy the harbour view. This vantage point, very touristy, allows to take nice night photos of the CBD, the Opera and the Harbour Bridge. Lots of clickety-click ensues.