Bergère de Domrémy
Bergère de Domrémy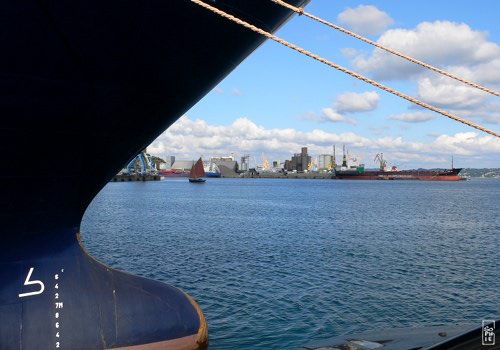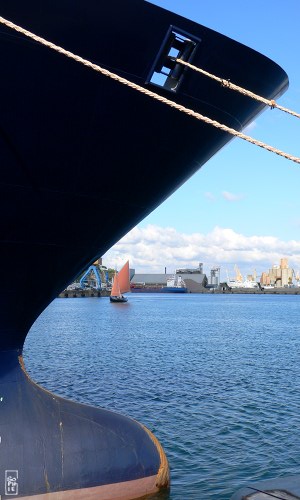 A small sail in Brest trade harbour, behind the huge bow of the rescue tugboat Abeille Bourbon. This is Bergère de Domrémy (the shepherdess from Domrémy, referring to Joan of Arc), a scallops dredging sloop built in 1936.
Une petite voile dans le port de commerce de Brest, derrière l'énorme proue du remorqueur Abeille Bourbon. C'est la Bergère de Domrémy (en référence à Jeanne d'Arc), un coquillier construit en 1936.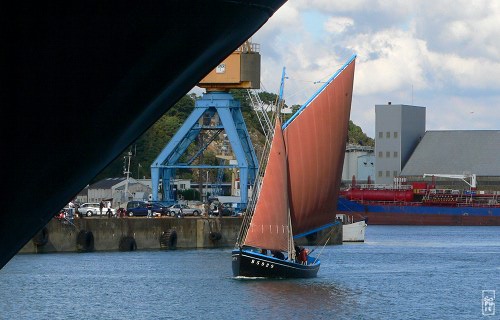 When the scallops fleet was disbanded after exhausting the resource in the 70s, this boat, one of the best performing sloop, was kept. She is about 10.5 m long, very powerful with a big surface of sail compared to her weight. She has been classified as heritage monument, is carefully kept as it was originally (among other things, she has no engine). The association An test maintains and sails it.
Quand la flotte de coquilliers a été abandonnée après avoir épuisé la ressource dans les années 70, ce bateau, parmi les coquilliers les plus performants, a été conservé. Elle fait à peu près 10,5 m de long, est très puissante avec sa grande surface de voile comparée à son poids. Elle est classée monument historique, et est conservé dans son état original (entre autres, elle n'a pas de moteur). L'association An test l'entretien et navigue avec.
Bergère de Domrémy website.
Site de la Bergère de Domrémy.
Brest, Finistère, France—08/2010