Getting back in
Brest

trade harbour at sunset
Retour dans le port de commerce de Brest au coucher du soleil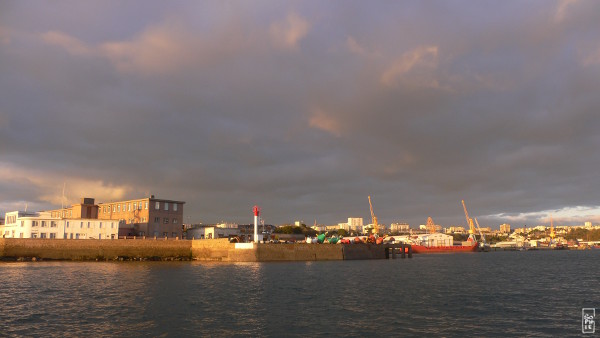 In autumn, the sun sets very early and our Saturday sessions aboard Bergère de Domrémy sometimes end at sunset. As we enter Brest trade harbour from the south, the sun lights up the dark clouds and white buildings with orange light.
En automne, le soleil se couche très tôt et nos sessions du samedi à bord de la Bergère de Domrémy se terminent parfois au coucher du soleil. Alors que nous entrons dans le port de commerce de Brest par la passe sud, le soleil illumine d'une lumière orange les nuages gris foncé et les bâtiments blancs.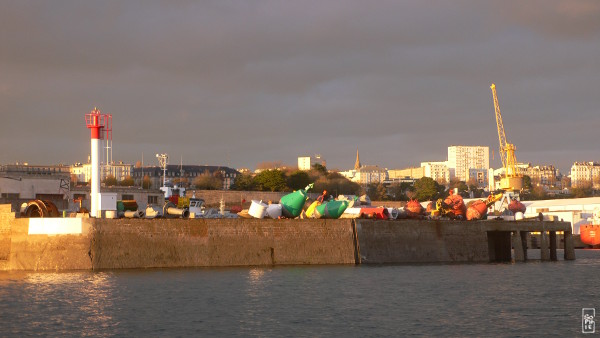 The colours of the various buoys and marks stored on the Phares & Balises (lighthouse authority) quay are also enhanced by the warm light.
Turning back, the seawall of the Château marina also glistens in the sun, with the military arsenal behind it.
Les couleurs des diverses bouées et marques stockées sur le quai des Phares & Balises sont aussi soulignées par la lumière chaude.
En nous retournant, la digue de la marina du Château brille aussi au soleil, avec l'arsenal militaire en arrière-plan.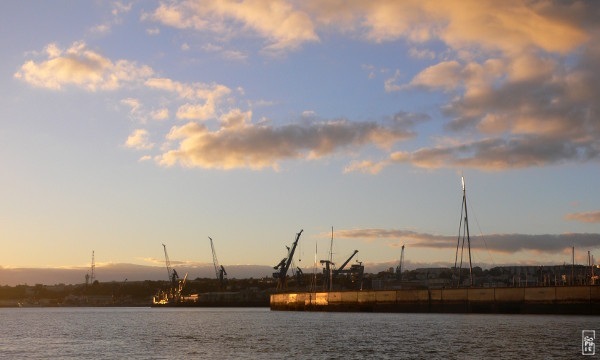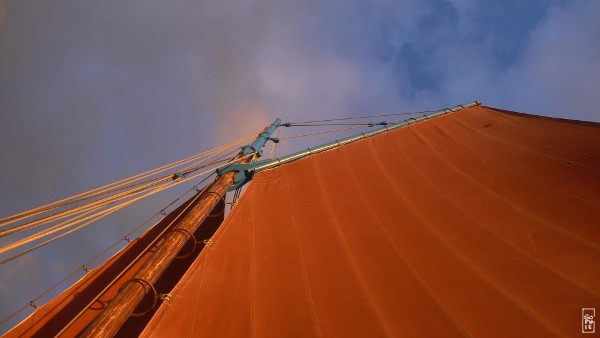 Bergère de Domrémy's sails also look very good in this light, a good match with the blue of its masts and the grey of the dark clouds.
Brest is sometimes called "White Brest" because its concrete buildings certainly look very white above the shore when you look at it from the sea, but at that time when the sun tinted the city it was "Yellow Brest"…
Les voiles de la Bergère de Domrémy sont aussi très belles sous cette lumière, un bel accord de couleur avec le bleu du mât et le gris des nuages sombres.
Brest est parfois surnommée « la blanche » parce que ses bâtiments en béton ont l'air très blancs au-dessus de la côte quand on les regarde de la mer, mais à ce moment où le soleil colorait la ville c'était plutôt « Brest la jaune ».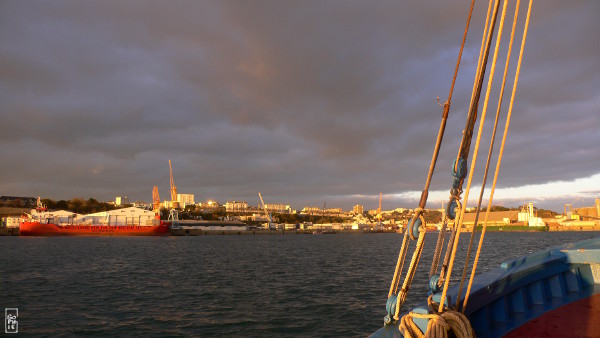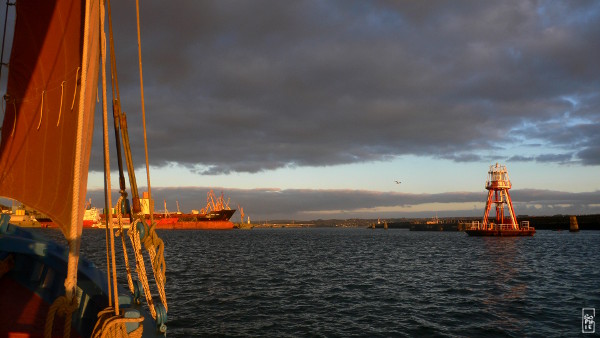 Even the rusty boats stored in the harbour aften being repossessed from their irresponsible owners look very good, as do the big red and white buoys stored along the jetty. These used to be positioned in the middle of the Ushant Traffic Separation Scheme, a "boat highway" meant to avoid big transport boats crossing each other as they enter the channel.
Même les bateaux rouillés stockés dans le port après avoir été confisqués à leurs armateurs irresponsables ont l'air très beaux, comme les grandes bouées rouges et jaunes stockées le long de la jetée. Ces bouées étaient placées au milieu du Dispositif de Séparation du Trafic d'Ouessant, une « autoroute à bateaux » créée pour éviter que les gros bateaux ne se croisent en entrant en mer de la Manche.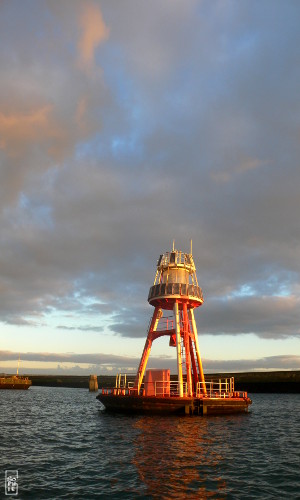 Bergère de Domrémy website.
Site de la Bergère de Domrémy.
Brest, Finistère, France—11/2013