Britair, Foncia & Groupama2
Britair, Foncia & Groupama2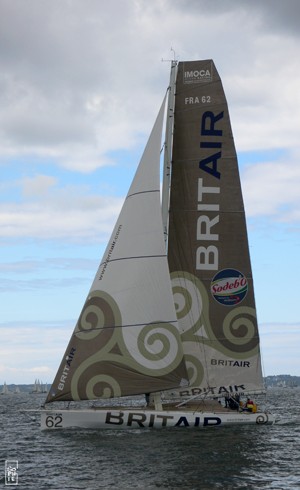 Modern race boats also visited and sailed among the ancient and replica sailships. The 60 feet IMOCA class monohulls included Britair (above) and Foncia (below).
Des bateaux de course modernes participaient également, et naviguaient parmi les anciens bateaux et les répliques. Britair (ci-dessus) et Foncia (ci-dessous) sont des monocoques de classe 60 pieds IMOCA.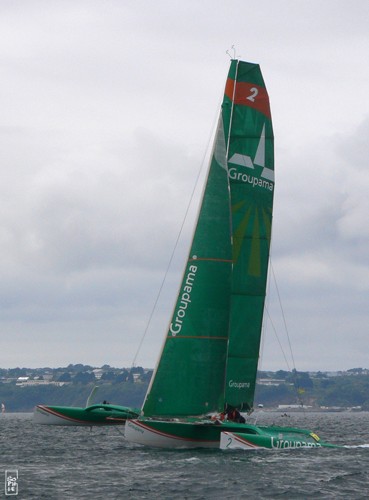 Groupama2 is a 60 feet ORMA class trimaran, which won the world ocean racing championship 3 times between 2004 and 2007. It was the fastest sail-powered boat in the harbour. While the 60 feet monohulls effortlessly outpaced the old sailboats, this one ran circles around them, its carbon hulls screeching under stress.
Groupama2 est un trimaran de classe 60 pieds ORMA, qui a gagné le championnat du monde de course océanique 3 fois entre 2004 et 2007. C'était le bateau à voile le plus rapide du plan d'eau. Alors que les monocoques de 60 pieds dépassaient sans effort les vieux voiliers, celui-là leur taillait des croupières, ses coques en carbones crissant sous les efforts.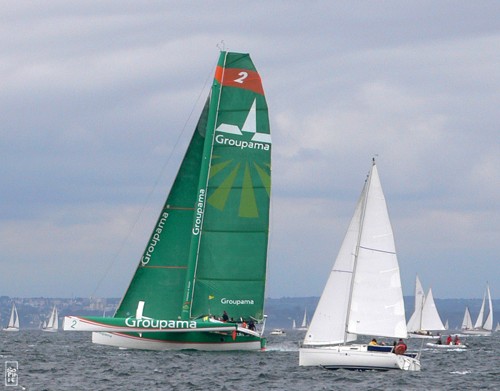 Brest, Finistère, France—07/2008