Recouvrance

bridge
Pont de Recouvrance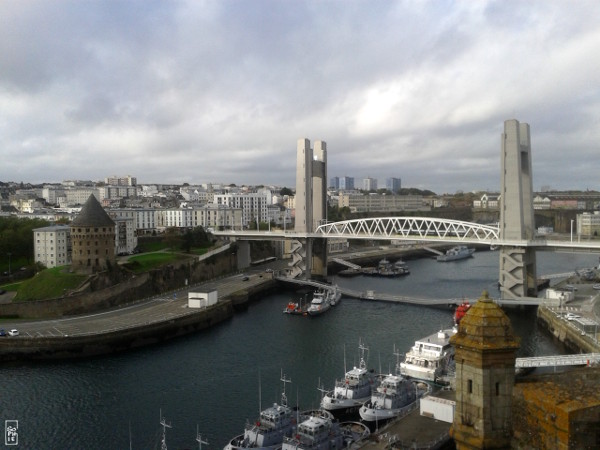 One of the landmarks of Brest is the Recouvrance bridge. It links both banks of the Penfeld river. It's a vertical-lift bridge to allow ships going upriver. The lift span has been replaced in 2011 so that the new tram line could go across it. When ships pass under the bridge, the tram line is interrupted.
Le pont de Recouvrance est l'un des repères de Brest. Il relie les deux rives de la Penfeld. C'est un pont levant qui permet le passage des bateaux remontant la rivière. La partie mobile a été remplacée en 2011 pour permettre le passage de la nouvelle ligne de tram. Quand les bateaux passent sous le pont, la ligne de tram est interrompue.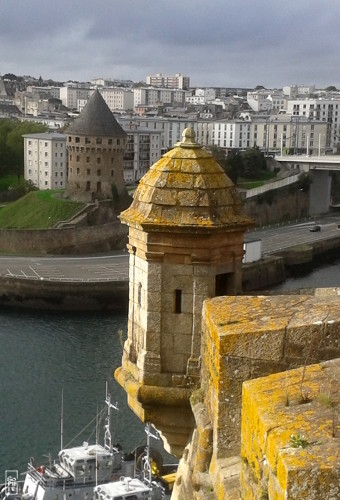 These photos were taken from the walls of Brest castle, an interesting maritime museum made special by the fact that the 3 "pavilions" are castle towers and so you walk outside on the walls to get from one to the other. One of the guerites of the castle is covered in orange lichen in the foreground, while the Tanguy tower stands on the other side of the Penfeld river.
Ces photos ont été prises des remparts du château de Brest, un musée maritime intéressant avec en plus le fait que les 3 « pavillons » sont les tours du château, et donc on marche à l'extérieur sur les remparts pour aller de l'un à l'autre. L'une des échauguettes du château est couverte de lichen orange en premier-plan, alors que la tour Tanguy se trouve de l'autre côté de la rivière Penfeld.
Brest, Finistère, France—10/2013