Sagrada Família

temple
Temple de la
Sagrada Família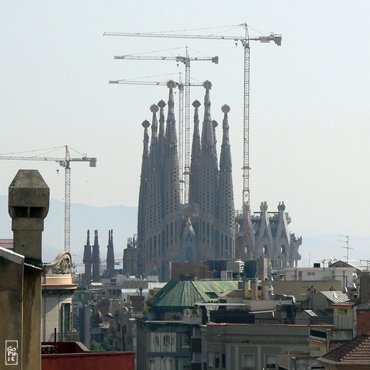 The Sagrada Família expiatory temple and its construction cranes tower above the surrounding building (above it is seen from the terrace of La Pedrera). Construction started in 1882, and Antoni Gaudì took charge in 1883.
Le temple expiatoire de la Sagrada Família et ses grues de construction émergent au-dessus des bâtiments environnants (ci-dessus on la voit de la terrasse de La Pedrera). La construction a commencé en 1882, et Antoni Gaudì en a pris la direction en 1883.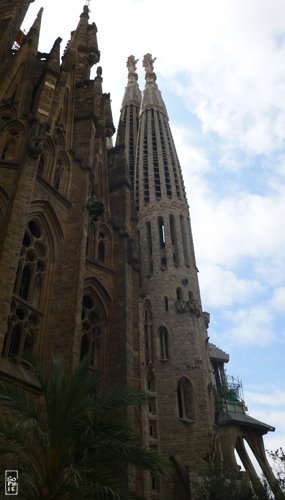 The first architect Francisco de Paula del Villar had designed a neo-gothic piece, and construction started with the apse. Gaudì completely altered the design. Above the Passion facade on the right is juxtaposed with the neo-gothic apse.
Le premier architecte, Francisco de Paula del Villar, avait dessiné un bâtiment néo-gothique, et la construction a commencé par l'abside. Gaudì a complètement modifié le dessin. Ci-dessus la façade de la Passion sur la droite est juxtaposée à l'abside néo-gothique.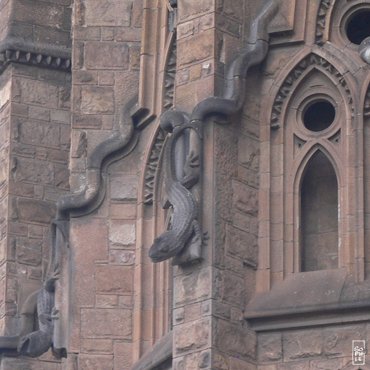 I guess the lizards as gargoyles on the neo-gothic part were added by Gaudì to link this part to his new design.
Je suppose que les gargouilles en forme de lézards sur la partie néo-gothique ont été ajoutés par Gaudì pour lier celle-ci à son nouveau style.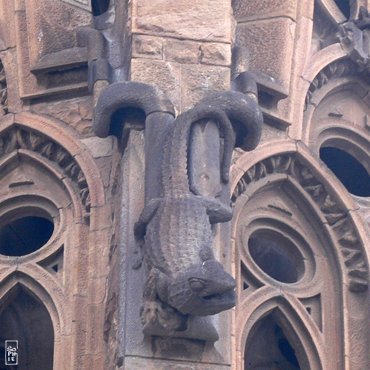 Barcelona, Catalonia, Spain 06/2007