Créac'h

lighthouse &

Patron François Morin
Phare du
Créac'h

& Patron François Morin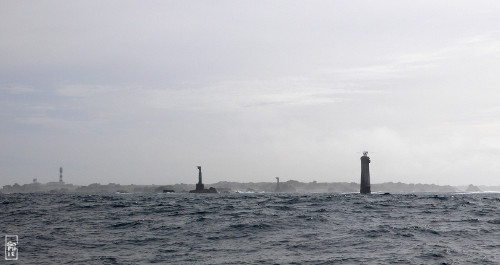 We leave our mooring on the next day to go around Nividic lighthouse and sail north to see the Créac'h lighthouse, situated inland on Ouessant (Ushant). The wind and current are against us, so we don't go much further, but see it defended by dark rocks. It is one of the most powerful lighthouses in the world, and also houses the control room for all lighthouses in Finistère. Nearby in the former power plant is a museum dedicated to lighthouses, the Musée des phares et balises.
Le jour suivant, nous quittons notre mouillage et contournons le phare de Nividic pour naviguer vers le nord et le phare du Créac'h, situé à terre sur Ouessant. Le vent et les courants sont contre nous, donc nous n'allons pas plus loin, mais nous le voyons défendu par des rochers noirs. C'est l'un des phares les plus puissants du monde et il abrite aussi la salle de contrôle de tous les phares du Finistère. Le Musée des phares et balises se trouve juste à côté dans l'ancienne centrale électrique.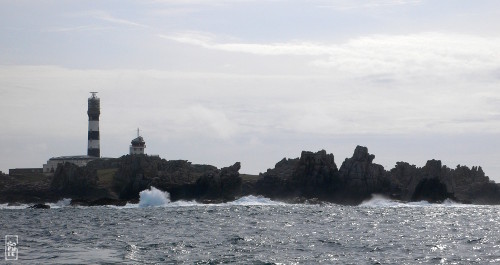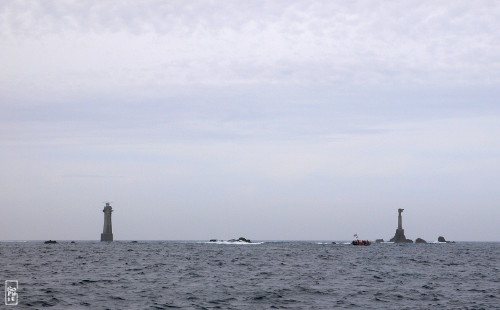 As we get back, we notice a lifeboat between Nividic lighthouse and one of its towers. It's a former SNSM lifeboat called Patron François Morin. It was built in 1959, named after the captain of the previous lifeboat. Its hull is made of 3 criss-crossed layers of mahogany, with 14 water-tight compartments inside. It kept to its duty until 1996, going on lifesaving missions 198 times, and is now heritage-listed, taking passengers on tours of the island.
Alors que nous rentrons, nous remarquons un canot de sauvetage entre le phare de Nividic et l'une de ses tours. C'est un ancien canot de sauvetage de la SNSM, le Patron François Morin. Il a été construit en 1959, nommé du nom du patron du précédent canot. Sa coque est faite de 3 couches d'acajou entrecroisées, avec 14 compartiments étanches à l'intérieur. Il a servi jusqu'en 1996, sortant en mission de sauvetage 198 fois, est désormais classé monument historique et prend des passagers pour faire le tour de l'île.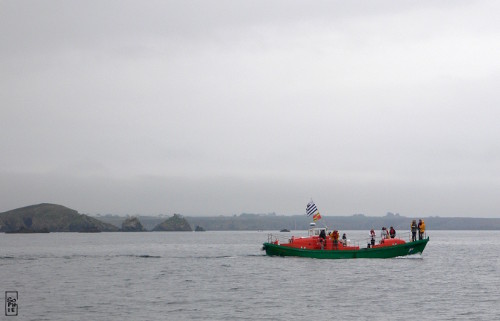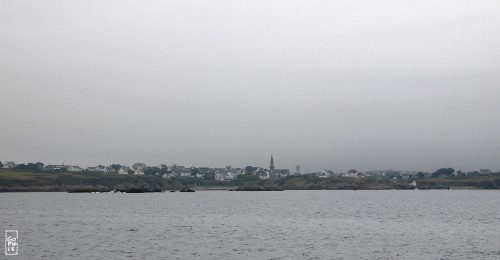 We get back to Lampaul under a grey sky.
Nous rentrons à Lampaul sous un ciel gris.
Notre-Dame de Rumengol website.
Site de Notre-Dame de Rumengol.
Mer d'Iroise, Finistère, France—08/2011