Arrival in Jersey
Arrivée à Jersey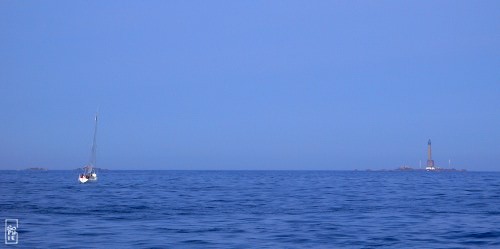 We go on north and get in view of the Roches-Douvres reef and lighthouse. The chiffchaff leaves our boat, probably heading for another one passing by, or maybe for the reef.
Nous continuons vers le nord et apercevons le plateau et le phare des Roches-Douvres. Le pouillot quitte notre bord, sans doute pour gagner un autre bateau qui passe, ou pour aller sur le plateau.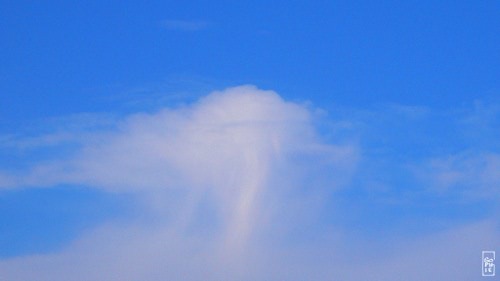 The weather is sunny, but we see a little white cloud called a virga: there's rain dropping under it without reaching the ground.
Le temps est ensoleillé mais nous voyons un petit nuage blanc appelé virga : il y a de la pluie qui en tombe mais elle n'atteint pas le sol.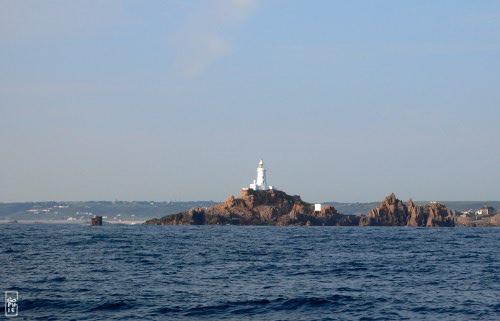 As Jersey gets into view, the island maritime security service broadcasts a warning. A lorry in submerged on the causeway between the island and the La Corbière lighthouse. It broke down as it was crossing and only its cabin emerges. As the Mont-Saint-Michel bay, Jersey has a very high difference between low and high tides.
Quand nous arrivons en vue de Jersey, le service de sécurité maritime de l'île diffuse une alerte. Un camion est submergé sur la cale entre le phare de La Corbière et l'île. Il est tombé en panne alors qu'il traversait et seul le haut de sa cabine émerge. Comme dans la baie du Mont-Saint-Michel, Jersey a un marnage très important entre la basse et la haute mer.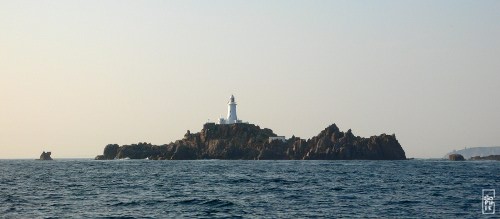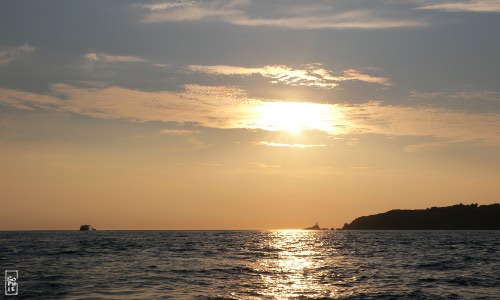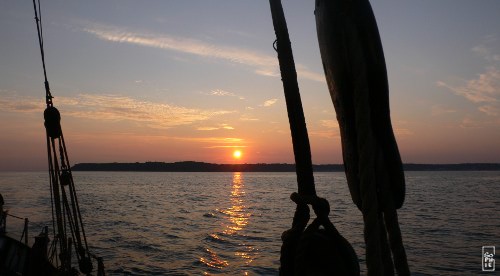 We enjoy the sunset over the island as we make our way towards Saint Helier harbour. The red sun dives behind Elizabeth castle.
Nous apprécions le coucher de soleil sur l'île pendant que nous faisons route vers le port de Saint-Hélier. Le soleil rouge plonge derrière le château Elizabeth.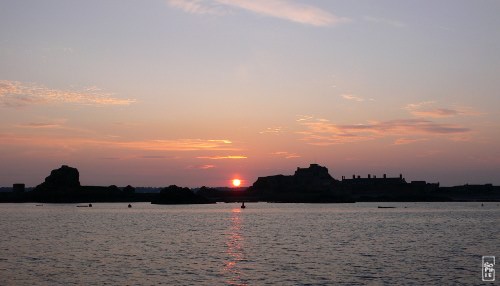 Lola of Skagen website
Site de Lola of Skagen
Mer de la Manche, France—07/2011