Saint Helier harbour
Port de Saint-Hélier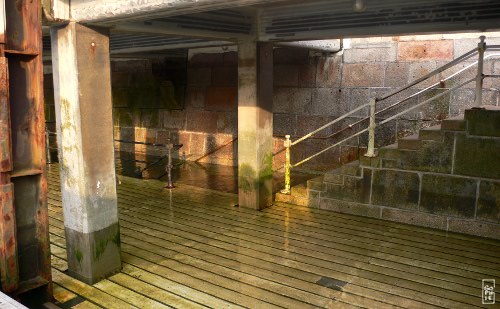 We wake up in the commercial part of Saint Helier harbour, a quite industrial setting (a freighter being unloaded makes quite an alarm clock). The quays are very high in order to accomodate the extreme differences between low and high tides.
To allow access to boats at low tide, a ladder would have been pretty high. So, every 50 meters, the quay is hollow and shelters a beautiful flight of stone stairs. Which get slowly flooded by the tide, and I love this view.
Nous nous réveillons dans le port de commerce de Saint-Hélier, un décor plutôt industriel (le déchargement d'un cargo fait un réveil bien sonore). Les quais sont très hauts pour s'adapter à l'énorme marnage.
Pour permettre l'accès aux bateaux à marée basse, une échelle aurait été un très long parcours. Donc, tous les 50 mètres, le quai est creux et abrite un très bel escalier de pierre. Qui est lentement recouvert d'eau par la marée, et j'adore cette vue.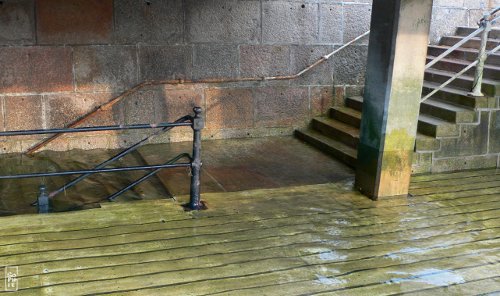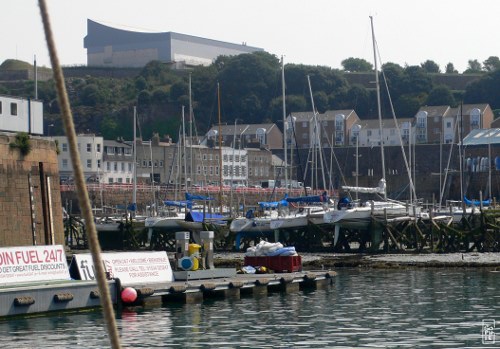 Another adaptation to tides is quite weird. Expensive yachts are moored in parts of the harbour fitted with doors or weirs to keep the water in, but other, I guess cheaper moorings feature ship cradles on which you put your boat at high tide. I think mooring manoeuvres can be tricky, and the cradles must be fitted to each boat's shape.
Une autre adaptation aux marées est plutôt bizarre. Les yachts luxueux sont mouillés dans des bassins du port fermés par des portes ou des seuils qui retiennent l'eau, mais d'autres bassins, sans doute moins chers, contiennent des bers sur lequel on pose son bateau à marée haute. J'ai l'impression que les manœuvres d'amarrage peuvent être un peu compliquées, et les bers doivent être taillés à la forme de chaque bateau.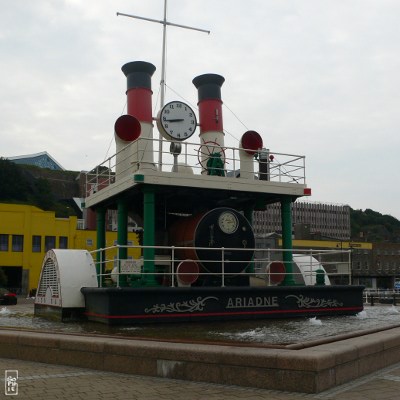 Close to the quays, a steampunk fountain is made to look like a square paddle steamboat. I liked the watch indicator, useful to get the right name for your watch during the cruise. I didn't know there were half watches, called dog watches. Apparently the origin of the name isn't quite clear, and their purpose is to allow an even number of watches so that a crew member wouldn't stand the same watch every day.
Près des quais, une fontaine steampunk est faite pour ressembler à un bateau à roues à aubes carré. J'aime bien l'indicateur de quart, qui m'a permis d'apprendre les noms des quarts en anglais. Je ne savais pas qu'il y avait des demi-quarts, appelés dog watch (quarts du chien). Apparemment l'origine du nom n'est pas claire, ils servaient à avoir un nombre impair de quarts, de manière à ce qu'un membre d'équipage ne fasse pas les mêmes quarts tous les jours.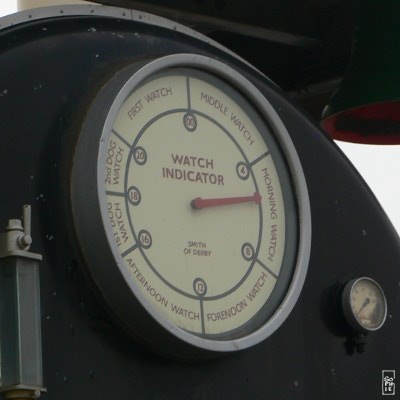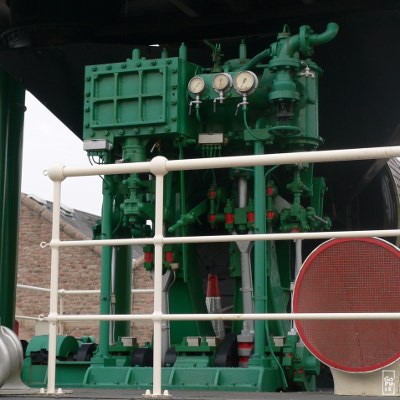 Lola of Skagen website
Site de Lola of Skagen
Saint Helier, Jersey—07/2011