Sunrise
Lever de soleil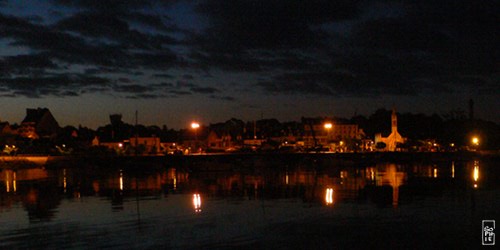 We leave very early to ensure we won't miss our appointment with the dangerous Raz de Sein. It is still night when we leave Sainte-Marine and Bénodet harbour.
Nous partons de très bonne heure pour être sûrs de ne pas rater notre rendez-vous avec le dangereux Raz de Sein. Il fait encore nuit quand nous quittons les ports de Sainte-Marine et Bénodet.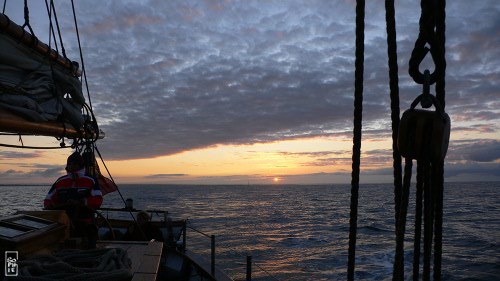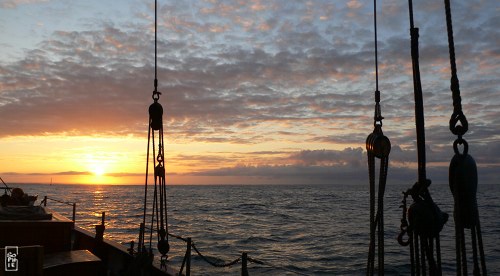 Compensating for the early start, we are treated to a beautiful orange sunrise emerging from the clouds.
En récompense du départ très matinal, nous apprécions un beau lever de soleil orange dans les nuages.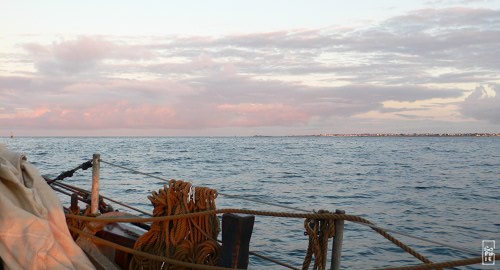 On the western side, the coast around Penmarc'h and clouds are coloured pink.
Du côté ouest, la côte vers Penmarc'h et les nuages sont colorés en rose.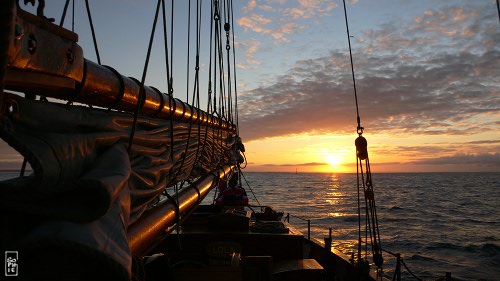 Desktop wallpaper—Fond d'écran :
320×480480×320640×960960×640640×1136240×320240×400480×854540×960800×480480×800720×12801024×10242048×2048640×480800×6001024×7681152×8641280×9601280×10241600×12001024×6001280×7681280×8001366×7681440×9001680×10501920×10801920×12002560×14402560×16002880×18002048×7682560×10243200×1200
Dew and raindrops still cling to the mainsail as we wait for the wind to rise and use the engine.
La rosée et les gouttes de pluie restent sur la grand-voile pendant que nous attendons que le vent monte et utilisons le moteur.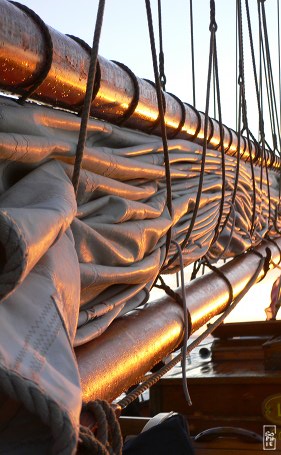 Lola of Skagen website
Site de Lola of Skagen
Bay of Biscay (Golfe de Gascogne), France—07/2010