Leaving
Sein

island
En partant de l'Île de Sein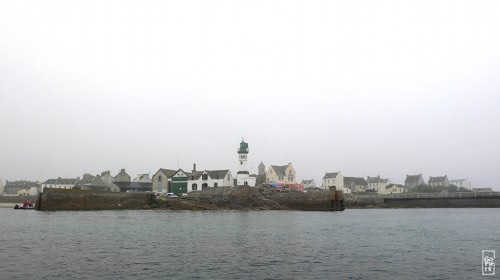 We leave Sein harbour as the fog lifts up a little. The Men Brial (painted stone) lighthouse stands on the jetty.
Nous quittons le port de Sein alors que le brouillard se lève un peu. Le phare de Men Brial (pierres bariolées) se dresse sur la jetée.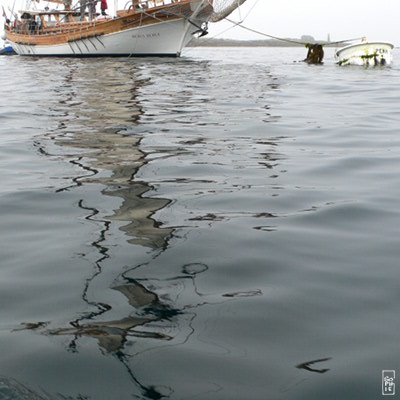 As I get back to Lola aboard Momo, low on the water, the quiet sea distorts the reflection of the neighbouring boat, the fore-and-aft rigged caïque called Bora-Bora.
Comme je rentre sur Lola à bord de Momo, bas sur l'eau, la mer calme déforme le reflet du bateau voisin, la caïque gréée en ketch aurique Bora-Bora.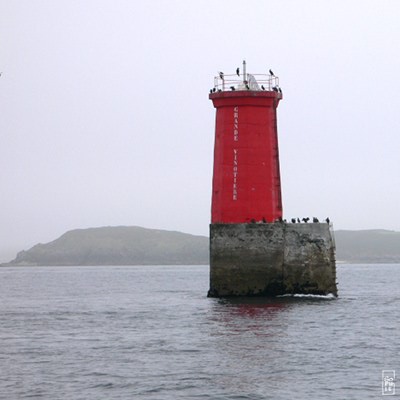 We leave towards Aber Wrac'h, passing along the Grande Vinotière lighthouse close to Le Conquet, it's used as a resting post by a group of shags. Shortly after, the fog engulfs us again and makes for a rather stressful passage up the Four channel.
Nous partons vers l'Aber Wrac'h, en passant le long du phare de la Grande Vinotière près du Conquet, il est utilisé comme point de repos par un groupe de cormorans. Peu après, le brouillard nous enveloppe de nouveau et nous cause pas mal de stress dans le chenal du Four.
Lola of Skagen website
Site de Lola of Skagen
Île de Sein, Finistère, France—07/2011