Sailing along the
Sept-Îles
Navigation le long des Sept-Îles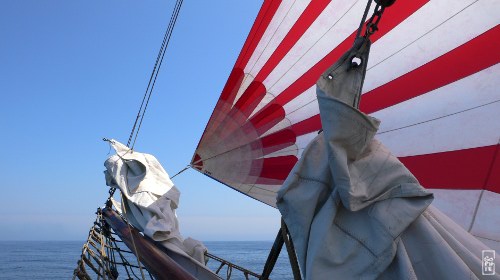 We leave Batz island in the sun, with only a little wind, so we try on a spinaker. It helps without being traditional at all, and its colours are perfect on a blue sky backdrop.
Nous quittons l'île de Batz sous le soleil, avec peu de vent, alors nous essayons un spinaker. Ça aide sans être traditionnel du tout, et ses couleurs sont parfaites sur un arrière-plan de ciel bleu.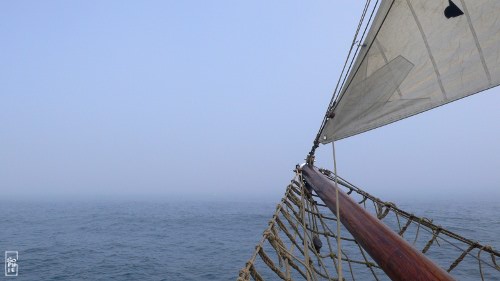 Soon the fog catches up with us. Once again "it's mysterious" and we're back on watch for boats visible only at the last minute.
Bientôt le brouillard nous rattrape. De nouveau "c'est mystérieux", et nous recommençons à veiller pour repérer les bateaux visibles à la dernière minute.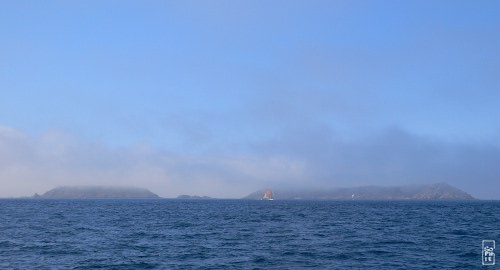 We don't see the pink granite coast even if we are close, but we are lucky enough that the fog lifts as we pass the Sept-Îles archipelago. This is a bird reserve, with access allowed only on one island. A traditional sailboat is on the way back to Perros-Guirec.
Nous ne voyons pas la côte de granit rose même si nous passons près, mais nous avons assez de chance pour que le brouillard se lève lorsque nous longeons l'archipel des Sept-Îles. C'est une réserve ornithologique, avec un accès possible à une seule île. Un voilier traditionnel est en train de rentrer vers Perros-Guirec.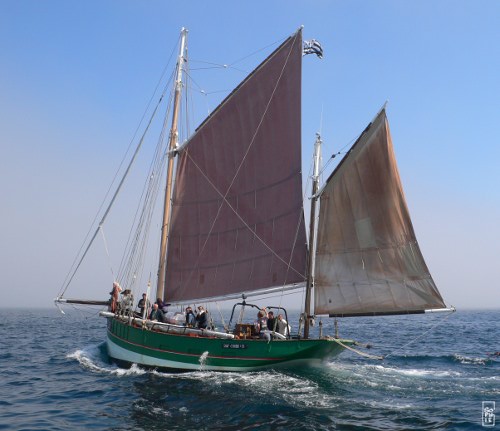 We salute each other and get a close view, this is Sant C'hireg, a copy of a rock lobster fishing boat from Camaret. They take visitors on a day trip to the Sept-Îles archipelago to see gannets, razorbills and seals, and also atlantic puffins only visible in spring.
Nous nous saluons et voyons le bateau de près, c'est le Sant C'hireg, une copie d'un langoustier de Camaret. Il emmène des visiteurs pour une journée dans l'archipel des Sept-Îles pour voir les fous de Bassan, les pingouins torda et les phoques, ainsi que les macareux moines visibles seulement au printemps.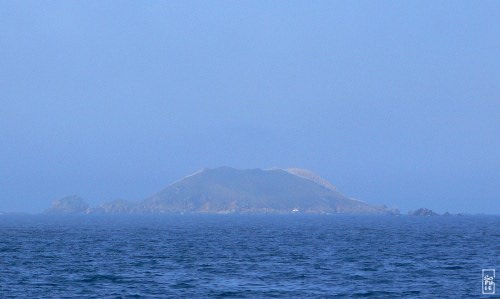 As we pass the easternmost island, Rouzic, we can see a beige blob on top of the island. It's the gannet colony, with more than 20 000 pairs nesting. The side of the island facing land has only a few birds, they like a sea view better and are concentrated on the other side.
Alors que nous passons le long de l'île le plus à l'est, Rouzic, nous pouvons apercevoir une tache beige au sommet de l'île. C'est la colonie de fous de bassan, avec plus de 20 000 couples nicheurs. Le côté de l'île qui fait face à la terre n'abrite que quelques oiseaux, ils préfèrent la vue mer et sont concentrés de l'autre côté de l'île.
Lola of Skagen website - Sant C'hireg website
Site de Lola of Skagen - Site de Sant C'hireg
Sept-Îles, Côtes-d'Armor, France—07/2011