St Denys steam tugboat
Remorqueur
St Denys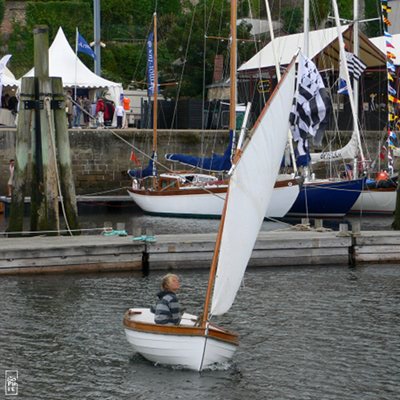 As we are moored in the harbour, not to a quay, we have to cross by boat, using the motor boats provided by the organization. We can also use Momo, Lola's superb clinker-built dinghy, steered by Luc.
Comme nous sommes amarrés dans le port, pas sur un ponton, nous devons rejoindre les quais en bateau, en utilisant les bateaux-passeurs à moteur fournis par l'organisation. Nous pouvons aussi utiliser Momo, la superbe annexe à clins de Lola, pilotée par Luc.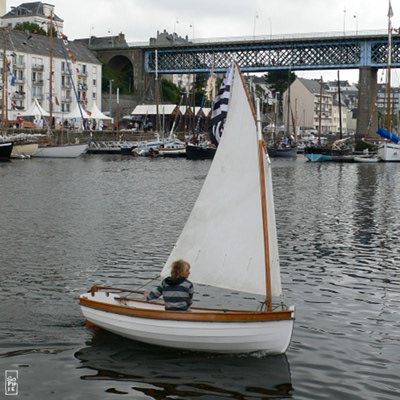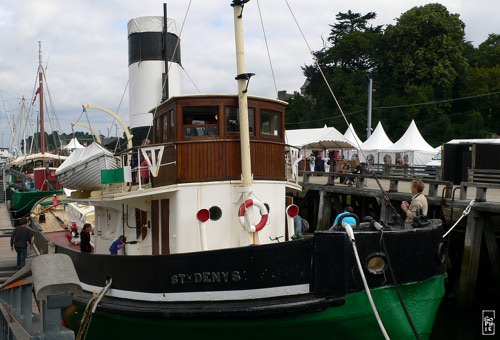 One of the boats belonging to the permanent sea museum is the St Denys, a steam tugboat from Falmouth.
L'un des bateaux de l'exposition permanente du musée maritime est le St Denys, un remorqueur à vapeur de Falmouth.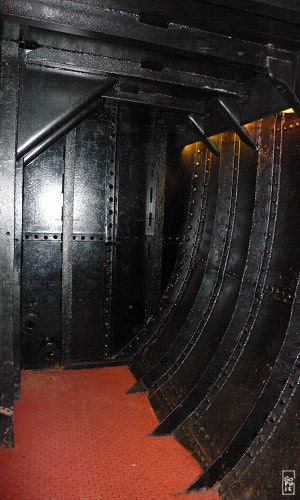 Inside the boat, a coal storage room has been painted red and black, allowing to look at the inside of the riveted hull.
Dans le bateau, la soute de stockage du charbon a été peinte en rouge et noir, et permet de voir l'intérieur de la coque rivetée.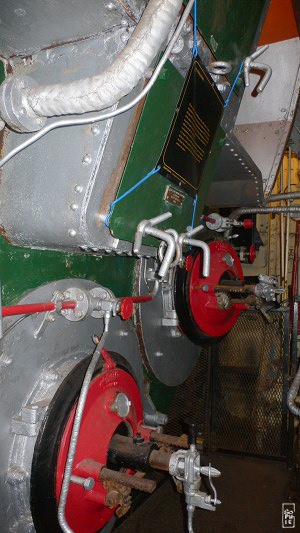 The grey, red and green boiler room is full of levers, valves and handles.
La chaufferie grise, rouge et verte est pleine de leviers, de vannes et de robinets.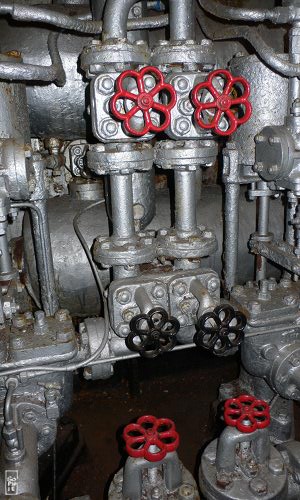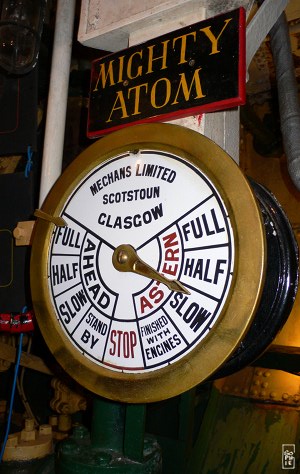 Instructions from the bridge of the ship were relayed to the boiler room via an engine order telegraph. I don't know what the "Mighty Atom" sign refers to, it sounds more like a locomotive name.
Les instructions de la passerelle sont relayées à la chaufferie par un transmetteur d'ordres. Je ne sais pas à quoi le signe "Mighty Atom" fait référence, ça ressemble à un nom de locomotive.
Lola of Skagen website
Site de Lola of Skagen
Douarnenez, Finistère, France—07/2010