Steam-powered boats
Canots à vapeur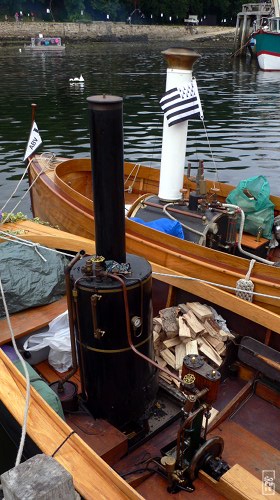 All the small steam-powered boats are moored together. Their various engines run on wood, so they have piles of small logs ready next to the boiler or in a sack. Above there's a good view of the transmission of steam from the boiler to the propeller shaft.
Tous les petits canots à vapeur sont amarrés ensemble. Leurs diverses machines fonctionnent au bois, donc ils ont des piles de petites bûches près de la chaudière ou dans un sac. Ci-dessus on a une bonne vue de la transmission de vapeur de la chaudière à l'arbre de propulsion.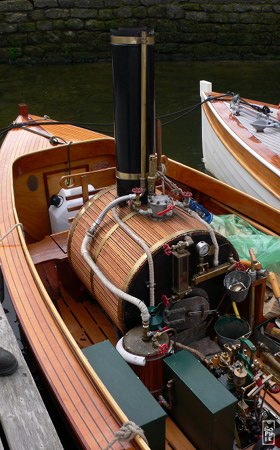 Both their woodwork and engines are superb, glistening and ready to go. The boiler above, belonging to "Keltia" is covered in wood and is a double expansion engine.
Leurs coques en bois sont aussi superbes que leurs machines, brillantes et prêtes à partir. La chaudière ci-dessus, celle de "Keltia", est recouverte de bois et c'est une machine à double expansion.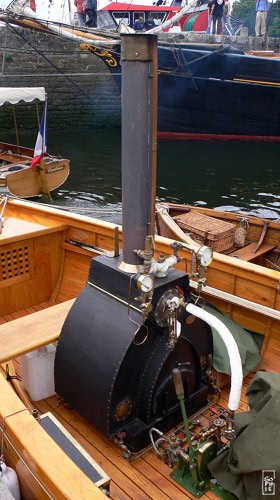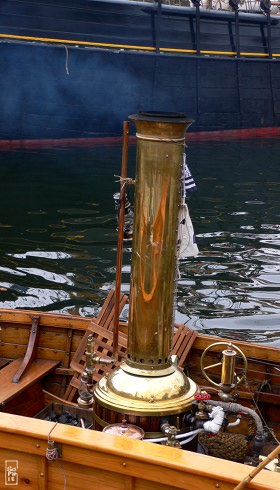 I like them all, but I have special feelings for "Lady Julie", from Normandy. Her clinker-built hull is riveted with brass, her brass chimney shines. Great care has been taken to make her look superb, from a duckboard folding seat to a wicker picnic basket (seen behind the black boiler above), woven fenders… and panama hats for the crew.
Je les aime tous, mais j'ai une faiblesse pour "Lady Julie", de Normandie. Sa coque à clins est rivetée en bronze, sa cheminée en bronze brille. Une attention au détail la rend superbe, d'un siège pliant en caillebotis à un panier pique-nique en osier (aperçu derrière la chaudière noire ci-dessus), des pare-battages tressés… et des panamas pour l'équipage.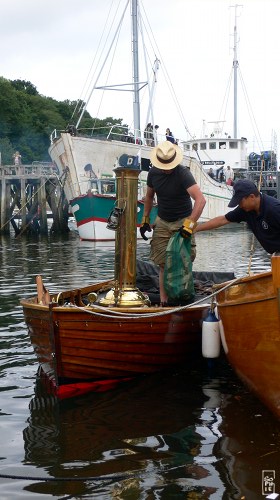 Lola of Skagen website
Site de Lola of Skagen
Douarnenez, Finistère, France—07/2010