Tas de Pois

rocks
Les Tas de Pois
The Tas de Pois ("pea stack") is a series of 6 steep rocky islands going out to sea from the Pen Hir head. Depending on the weather and your knowledge, you can either go around them, or between some of them.
Les Tas de Pois sont une série de 6 îles rocheuses verticales qui pointent vers la mer à partir de la pointe de Pen Hir. Selon le temps et les capacités de navigation, on peut soit en faire le tour, soit passer entre certains d'entre eux.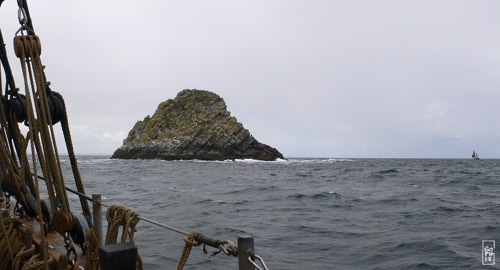 The weather was a little agitated on that day, but at the last moment, our captain decided going between would be better. With a little input from the engine, we made it through this very impressive landscape. The dots on top are european shags perched on the rocks.
Le temps était un peu agité ce jour-là, mais au dernier moment, notre capitaine a décidé que passe entre eux serait plus facile. Avec un peu d'aide du moteur, nous avons traversé ce paysage impressionnant. Les points au sommet sont des cormorans perchés sur les rochers.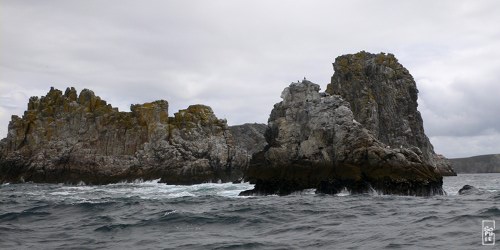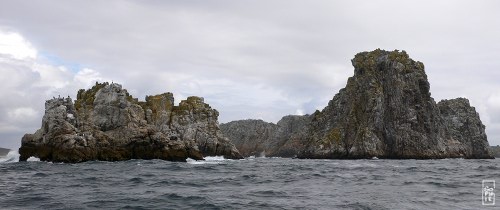 Desktop wallpaper—Fond d'écran :
320×480480×320640×960960×640640×1136240×320240×400480×854540×960800×480480×800720×12801024×1024 640×480800×6001024×7681152×8641280×9601280×10241600×12001024×6001280×7681280×8001366×7681440×9001680×10501920×10801920×12002560×14402560×16002880×18002048×7682560×10243200×1200
Lola of Skagen website
Site de Lola of Skagen
Bay of Biscay (Golfe de Gascogne), France—07/2010