Granville

dinghies
Annexes de Granville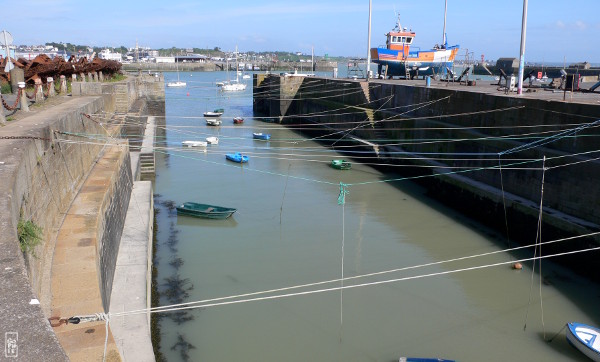 In the old part of Granville harbour, ships are moored and beached at low tide, and there are no pontoons, so people use dinghies to get to their boats. The way they are moored is pretty interesting: in a disused drydock, ropes are laid horizontally in a loop between 2 blocks, with dinghies moored on a vertical rope dangling below. The vertical ropes can be brought to shore by pulling on the horizontal ones. The drydock stairs are used to get to the dinghies. Neat!
Dans la partie ancienne du port de Granville, les bateaux sont au mouillage dans un port d'échouage, et il n'y a pas de pontons, donc on utilise des annexes pour aller aux bateaux. La façon dont elles sont mouillées est intéressante : dans une forme de radoub inutilisée, des boutes horizontaux bouclent entre 2 poulies, avec les annexes amarrées dessous, à des boutes verticaux. On peut amener les boutes verticaux au bord en tirant sur les horizontaux. Les escaliers de la forme sont utilisés pour accéder aux annexes. Pas mal !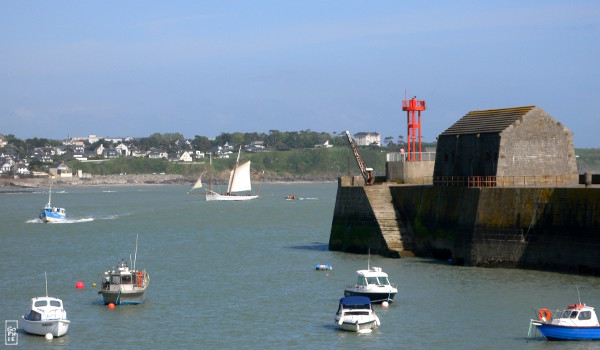 While we walk along the jetty, the bisquine La Granvillaise gets back into the harbour while furling its sails.
Pendant que nous marchons sur la jetée, la bisquine La Granvillaise rentre au port tout en ferlant ses voiles.
La Granvillaise website
Site de La Granvillaise
Granville, Manche, France—05/2014