Mooring and shrimp fishing
Mouillage et pêche à la crevette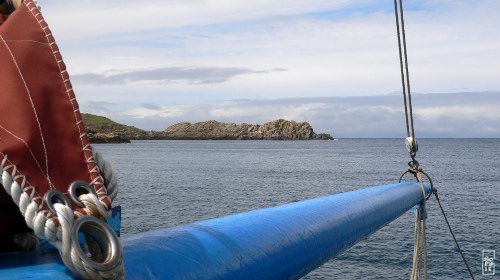 We moor between the northern islands Tresco (east) & Bryher (west), in a narrow sound that is quite sheltered, and the weather lightens up.
Nous mouillons entre les îles du nord de l'archipel, Tresco (à l'est) & Bryher (à l'ouest), dans un passage étroit bien protégé, et le temps s'éclaircit.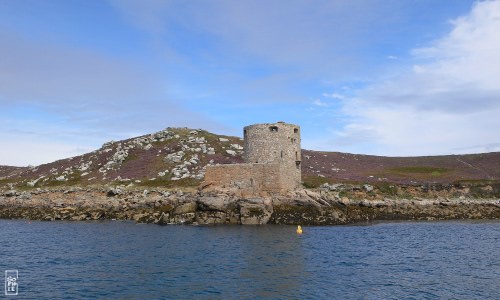 We are very close to Cromwell's castle, a gun tower built on Tresco in the 17th century and surrounded by rocks and violet heath bushes.
Nous sommes très proches du château Cromwell, une batterie construite sur Tresco au XVIIe siècle, entourée de rochers et de buissons de bruyère mauve.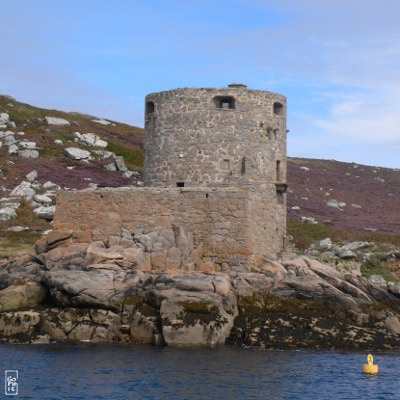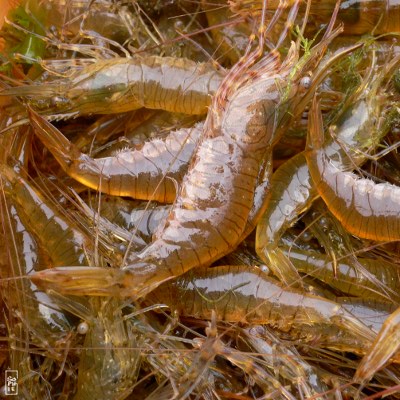 As it is the theme of the cruise, those who want to go searching for common prawns, and are abundantly rewarded. On the next day I go to swim, sit on the shallow sand and the shrimp come to use me as a shelter against the current. I have a fond memory of being surrounded by shrimp.
The shrimp are cooked then flambé with various alcohols. We elect pastis as the best tasting.
Comme c'est le thème de la croisière, ceux qui veulent aller pêcher la crevette bouquet le font, et sont abondamment récompensés. Le jour suivant je vais nager, je m'assieds sur le sable dans peu d'eau, et les crevettes viennent vers moi pour s'abriter du courant. J'ai une mémoire émue d'être entourée de crevettes.
Les crevettes sont cuites pluis flambées avec divers alcools. Nous élisons le pastis comme meilleur parfum.
Notre-Dame de Rumengol website
Site de Notre-Dame de Rumengol
Scilly Islands, United-Kingdom—08/2011