Australia diary
6 - Mystery flight
June 20, 1998
MYSTERY FLIGHT!!!…
(woke up at 5:00am)
The mystery flight consists in buying a ticket from Ansett, at a fixed price, not knowing where you'll land. You phone the day before to know the departure time, and you get to know the destination when you get at the check-in counter. Excellent idea.
Aaand we go to… The Gold Coast, ;-(, not my first choice at all.
We land in Coolangatta Airport, Miss Ansett jumps on us to sell us a visit to Seaworld and a bus ticket to get there… AUD41 + AUD28!! "Fleeced" is the word of the day.

So, we take a bus to Seaworld, a marine park, but it's 9:00am and the park opens at 10:00. To the beach, then… Nice long beach… with nice waves.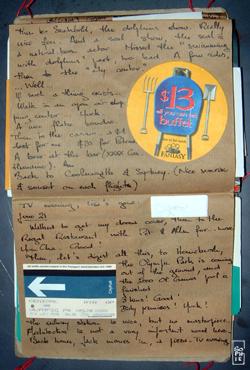 Then to Sea World, the dolphins show. They jump! They even seem to smile! Really nice fen, as they say in Startide rising. And a seal show, the seal is a natural-born actor. Missed the "swimming with dolphins" part, too bad. A few fun rides, then to "downtown".
Well…
If such a thing exists… Walk in an open-air shopping center, yuck. A nice flake sundae, then to the casino… a AUD1 loss for me, 20 for my friend. A beer at the bar (XXXX Castlemaine, it's a good one)
Back to Coolangatta and Sydney (nice sunrise and sunset on each flight in and out).
TV evening, one of the housemates has moved out.
June 21, 1998
Walked to get my doona cover, then to the Regal Restaurant again with my friend and a housemate for… more yum cha. Good!
Then, let's digest all this, to Homebush, the Olympic Park is coming out of the ground, and the 2000 Olympic Games swimming pool is finished.
Swam 3 km!
The premises are dirty, yuck.
The railway station is nice, but no masterpiece. Architecture doesn't seem to be a very important word here. Back home, another housemate moves in, we have a pizza and TV evening.
June 22, 1998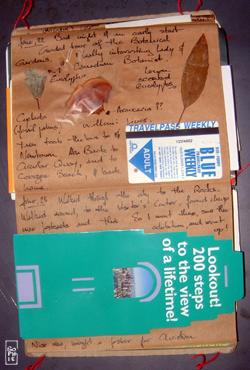 Bad night and an early start. I go to a guided tour of the Botanical Gardens, with a really interesting lady and a Canadian botanist. I get to smell the lemon scented gum tree, to discover cycads (fossil palms), to know the story of the fossil wollemi pine (it is so old the botanists thought it was a joke when a ranger brought them samples, now it is protected in its natural habitat, grows in cages in Botanical Gardens around the world to spread the species and protect it from theft).
I then take the bus to Newtown, get back to Circular Quay, to Coogee Beach, and finally home.
June 23, 1998

I get through the city, passing through Hyde Park where the Archibald fountain glimmers in the sun under Centerpoint tower, to The Rocks, where the Bounty is moored, and where I get a view of the Opera House between palms. I walk around, to the visitor's center, find nice postcards and… this green leaflet. So I go there, check the exhibition, and go up the Harbour Bridge lookout!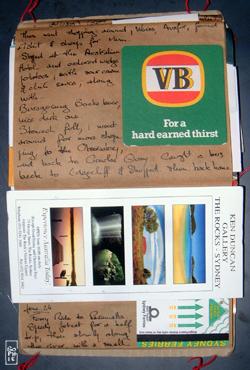 It is situated in one of the four pylons and gives nice views: one above the bridge shows its width, others give an "aerial" perspective of The Rocks or Circular Quay. If you visit Sydney, this only costs a few dollars and gives you a really good view and technical info about the building of the Bridge, choose this one instead of the very expensive harbour climb thing. I buy a technical blueprint poster for a bridge-loving friend.
I then go shopping around, the Weiss gallery, Ausfur, I find t-shirts and teddy sheep. I check the Ken Duncan Gallery, where his nice Australian panoramas are on display.
A stop at The Australian Hotel, and order wedge potatoes, with sour cream and chili sauce, along with…
Burragorang Bock beer, nice dark one, from a micro-brewery. I love it!
Stomach full, I go around for more shopping, to The Observatory, and back to Circular Quay. I catch a bus back to Edgecliff and get home.