Australia diary
7 - Aquarium & Uluru
June 24, 1998
I start with a ferry ride to Parramatta. The fast jetcat speeds for half the trip, then goes slowly up the Parramatta river. The water edge is sometimes close to a mangrove.
There are cormorants, herons and other birds. It could do with a little cleaning, though.
Not much to see in Parramatta, a governor's house in the park, so… back!
I take a bus to Darling Harbour, walk around and then visit Sydney Aquarium. It's expensive, but very nice. You get to see seals from an underwater tunnel, other tunnels go under coral reef fish, manta rays and sharks, there are fairy penguins, and there's also a platypus. Ooooh, busy guy.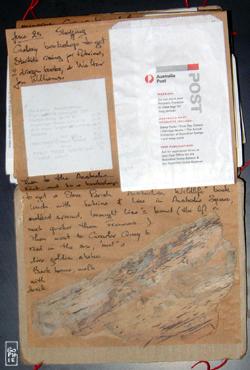 Back home, we make a failed attempt at a "far breton", and I start inviting people to the farewell party.
June 25, 1998
Shopping… I go to the Galaxy bookshop to get Startide rising for my friend, two Ann MacCaffrey dragon books, a Walter Jon Williams book.
Then, to the Australia Post, and to another bookshop to get a Steve ParishAustralian wildlife book. I love his nature photos.
Lunch in Australia Square, walk around, then I deliver a paper to one of the house mates. She's working in the CBD, on floor 45 of one of the high-rises close to Circular Quay. The lifts are servicing only segments of the building (floors 1-15, 15-30, 30-45) and are really fast, much faster than in Les Horizons in Rennes.
Then I go to Circular Quay, read in the sun, meet one of the "live statues" who are often found on the quay. Back home, I go for a walk with my friend's dog.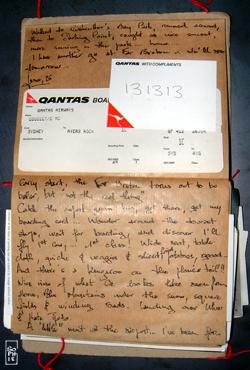 We walk to Rushcutter's bay park, doggy runs around, then on the leash to Darling Point, and we catch a nice sunset, where orange clouds seem to be dripping down from the sky, more running in the park, then home…
I have another go at far breton, we'll see tomorrow.
June 26, 1998
Early start, the far breton turns out to be better, but "not the real thing".
I catch the airport green shuttle bus, get there, get my boarding card… wander around the tourist shops, wait for boarding, and discover I'll fly first row, first class! Wide seat, table cloth, quiche, veggies and sliced fried potatoes for breakfast, goood… And there's a kangaroo on the tail of the plane!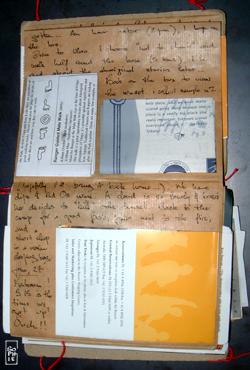 Nice view of what Oz looks like seen from above, Blue Mountains under the snow, square fields and winding roads. I get aerial views landing over Uluru and Kata Tjuta.
A "little" wait at the airport… I've been forgotten… An hour later (2:00pm), I hop on the minibus.
We drive to Uluru. I choose "not to climb" and walk half around the base (about 5 km). I'll read about the interesting aboriginal stories later, it's difficult to do it while walking… Back on the bus to view the sunset.
The sand is a deep reddish brown colour, very different from Bondi's white sand, we have dips and red Oz wine. A cloud is so lonely and bored it decides to spoil the sunset. Back to the camp for a good BBQ, jokes sitting by the fire, and a short sleep in a warm sleeping bag. Outside it's about 0°C…