Australia diary
8 - Red center
June 27, 1998
Kaboom! 5:15 am is the time we wake up! Ouch!

We head towards Kata Tjuta, and walk around up a gorge while the sun rises. Steve, one of our guides, hints at different plants: salt and pepper (edible, I tasted the tip), native hops (makes a crude beer), sticky hopbush, lemon grass, native mint of some sort…, with also gum trees on lots of red sand.
The clouds go away and the sun enhances the colour of the orange and red rock.
Back to Uluru for a quick walk at the Mutitjulu waterhole where water runs down on the rock, and back to camp for lunch. Shopping (even in the desert :) Now to Kings Creek Station…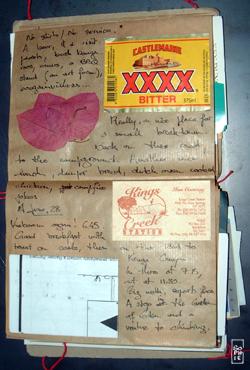 Vroom all down the way, except for a toilet and drinks stop in a station. Toilets? They are labelled "Gents" and "Sheilas". A weird sign next to the entrance door of the bar:
"Sex
Now we have your attention
No shirts / No service"


A beer for the road (I like Castlemaine 4X, a Texan and I dub it "double dos equis"), and a visit of the station: parrots, bush kangaroos (one trying to peer over the fence, the other looking thoughtful), emus (got a close-up shot), and a BBQ stand (this is an austrlaian art form), bougainvilleas… Really, a nice place if your car has a breakdown.
Back on the road, to the campground. Another nice lunch, damper bread, Dutch oven cooked chicken, campfire discussions.
June 28, 1998

Kaboom again! 6:45 am this time. Good breakfast with toast on coals, then on the road to Kings Canyon.
In there at 7:15, out at 11:30.

Big walk in a superb place. A stop in the Garden of Eden, the narrow end of the canyon, and a little climbing experiment. I get through it!
Saw a lizard, some spinifex pigeons (close to crested pigeons but yellow), saw eagles along the way while we were driving… one picking at a road-killed skippy. Camels too, on the way and at Kings Creek station. They were imported with afghan workers during the building of the Adelaide-Alice Springs railway and some have gone wild. I also collect leaves of holly grevillea, wattle, and the tip of the spinifex grass.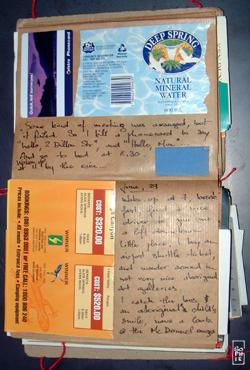 A walk alone in the gorge (so quiet…), the sun shines on the spinifex bushes, back for lunch, saw kangaroos, one with a joey, at the station on the road to Alice Springs.

Those who started in Alice will have travelled 1632 km, so I guess I've done about 1000-1100 km. We stop to catch the sunset sky. Arrive in Alice, say goodbye, check-in at Toddy's, just a motel room, nice…
Some kind of dinner meeting is arranged, but fails, so I kill a phonecard to say "Hello" to my friend in Sydney and my mother.
And go to bed at 8:30 (walking does it I guess), I'm woken up at 11:00 pm by the rain. It's winter in the desert…