Australia diary
5 - East coast & Tasman peninsula
March 28, 2003


After breakfast, we leave for the local animal park, East Coast Birdlife and Animal Park: kangaroos, koalas, echidnas, wombats, geese, Tasmanian devil, eagles, hens, ducks, swans, parrots, cockatoos and pigeons.
I stick the down of a galah cockatoo in my diary, a grey and pink feather.
The kangaroos hop towards food, the wombat tries slowly to escape. In a cage, baby wombat and baby wallaby chase each other. All these animals have been collected in a bad state (mother victim of "roadkill" or another mishap) and will only be kept here if they can't get back to wildlife.

Afterwards, we drive for a long time towards Wielangta forest, where we picnic. On the road, I "spot" a spotted quoll, a brown carnivorous marsupial with white dots, slightly smaller than a Tasmanian devil, crossing in front of the bus and disappearing in the forest!
We go on towards Tasman peninsula, southeast of Tasmania, (Abel Tasman was the Dutch explorer who discovered Tasmania and New-Zealand). We arrive in Port Arthur, a penitentiary town. We are given cards depicting the sentence to which we are condemned (we didn't check what they were exactly, and drank tea instead), and entry tickets for the penitentiary.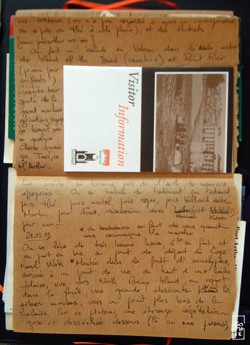 We take a boat to tour the harbour, around the Island of the Dead (the cemetery of the penitentiary) and Point Pier (prison of the children). After the cruise, we have a guided tour of the "grand machine grinding rogues to honest men" or something like that, according to the creator of the penitentiary, this governor Arthur must have been raving mad… We especially "appreciate" the chapel filled with stalls orientated towards the priest so that the convicts could never see each other, and the isolation and sensory deprivation cells. Charming.

The visit ends close to the asylum, it's quite fitting as many convicts ended there instead of being transformed into "honest men"… We walk from building to building, lots of them are in ruins, like the church, but the convicts were very useful to arrange a nice garden.
Then we drink another tea, get to the motel, have diner, play pool and chat with Hannah and Kaoru…