Australia diary
5 - East coast and Tasman peninsula
6 - Cape Raoul & Hobart
March 29, 2003

We wake up very early, 6:30 in fact, and we leave by bus towards the starting point of the Cape Raoul walk, which name come from the pilot of the ship La Recherche. A kookaburra makes fun of us as we start the walk. We go up in the gum trees forest, and arrive at a viewpoint on the edge of a cliff, with a view towards South Bruny Island, and we go on through the forest, a big descent among moss-covered trees, to a lower point on the cliff. On this plateau, a strange vegetation, grey and dry seen from below (where we walk), and green on top (they are in fact sheoaks) ; then brush.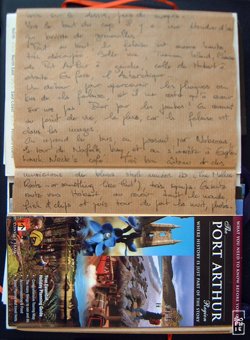 Towards the edge of the cape, there is an expanse of water which is rustling with frog croaks.
At the edge, the cliff is still quite high, very cut out. A very nice view, Tasman Island, the Port Arthur bay on the left, Hobart's on the right. Ahead, Antarctica…

A detour to get a glimpse of the fur seals at the bottom of the cliff, and we only have to go back on our track. Hard on the legs! When we get back to the first viewpoint, it rains, as the cliff is in the clouds.
We take the bus back, going through Nubeena, around Norfolk bay, and we stop in Eaglehawk Neck's café. Very tasty cakes and musicians playing 1920s style blues (The mallee roots, I think), very nice. Then drive to Hobart, bye bye everybody, fish and chips and a stroll around the harbour by night, photos…
March 30, 2003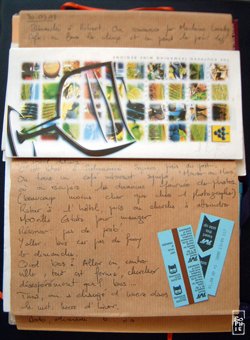 Sunday in Hobart. We start with Machine Laundry Cafe (both café and laundromat): we wash our clothes and enjoy breakfast in the sun outside, very good idea… It's situated in Salamanca Square, a pedestrian zone close to the harbour.
We find a very friendly internet café, Mouse on mars, where I burn the second batch of photos (much cheaper than at a photographer's). Back to the hotel, then we try to reach Moorilla Estate to have lunch.
Booking: no worries
Get there: by bus as there are no ferries on Sunday
Which bus?: get downtown, everything is closed, desperatly trying to find which bus bus…
Hey, we changed time during the night, now it's winter time.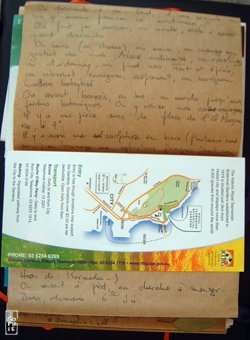 We ask a local, he tells us about a bus mentioned nowhere in the panels…
Which eventually arrives, we get in, we just have to guess where to get off…


We find (it's stressfull), we get to the restaurant, we eat while we taste various wines. From ordinary, a riesling, a chardonnay, a pinot noir. To strong and spicy, a cabernet sauvignon, and surprising, a sweet botrytised sauvignon.

We get back drunk, by bus… and walk to the botanical gardens. We meet our fellow travellers of the last days there. There is a room with flora from Macquarie island (far south from Tasmania), kept at 7°C.
There is also a wood sculpture (waterless fountain) paying homage to the French explorators who mapped Tasmania with expeditions like the one of La Recherche and L'Espérance (gone in search for La Pérouse in 1791-1794) and of Nicolas Baudin in 1802. One of them is Huon de Kermadec, a breton, captain of L'Espérance, who left his name in lots of places between Australia and New-Zealand.
We get back on foot, and look for something to eat…
Off to sleep, tomorrow 6:30!